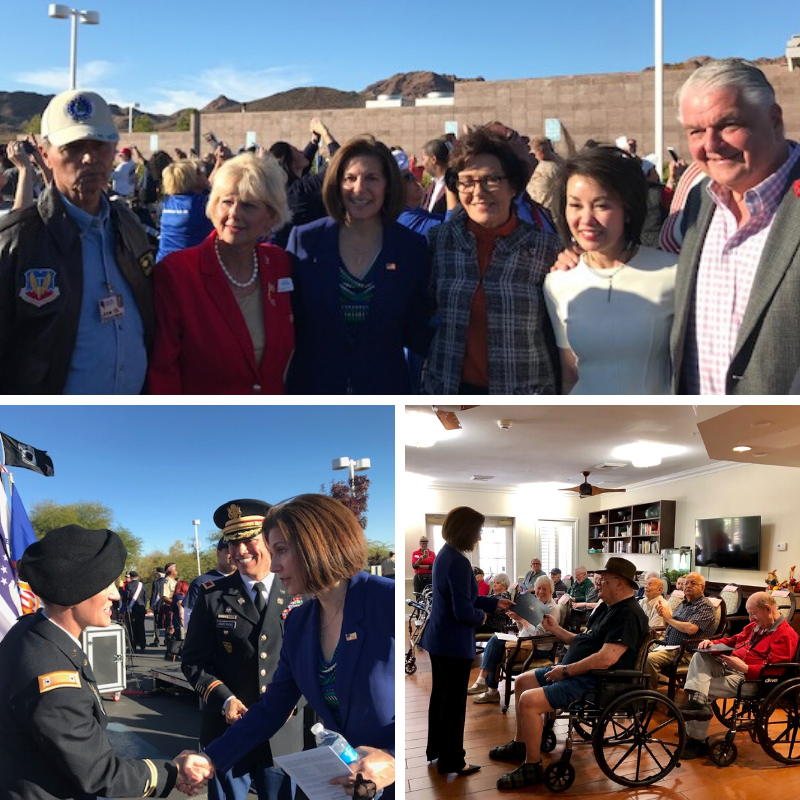 Las Vegas, Nev. – U.S. Senator Catherine Cortez Masto (D-Nev.) today honored Nevada's and America's veterans at Veterans Day ceremonies in Las Vegas. She first spoke at Heritage Springs Assisted Living Memory Care's Veterans Day Recognition Ceremony. In her remarks, Senator Cortez Masto talked about how America can honor our senior veterans by supporting their health and welfare. Later, she attended a Veterans Day Ceremony at the Nevada Department of Veterans Services.
"On this and every Veterans Day, we recognize the debt we owe to the brave men and women in uniform who have fought for our country and way of life. We honor their sacrifices, as well as the sacrifices their families have made for America. I've been all over the state of Nevada and met veterans from Henderson to Minden. And one thing I've taken away from each of those encounters is veterans' love for their community and for their country. Our country can never truly repay the debt we owe our veterans and their families. But each day in the Senate, I'm working to try to honor that service."
BACKGROUND:
Senator Cortez Masto is a cosponsor of numerous recent pieces of legislation to help improve housing, health care and career services for our nation's veterans. The Senate-passed version of the NDAA includes language from the Senator's Better Military Housing Act of 2019 to improve the management of privatized military housing and prioritize the needs of families. She also recently introduced the SERVICE Act, which expands access to mental health services for combat veterans seeking care more than five years after discharge, and the Servicewomen's Health Transition Training Act of 2019 to help service women transitioning from active duty to civilian life learn about the VA health services and benefits available to them. She's also introduced the Accelerating Veterans Recovery Outdoors Act, which identifies opportunities to expand veterans' access to public lands for outdoor therapy and rehabilitation treatments.