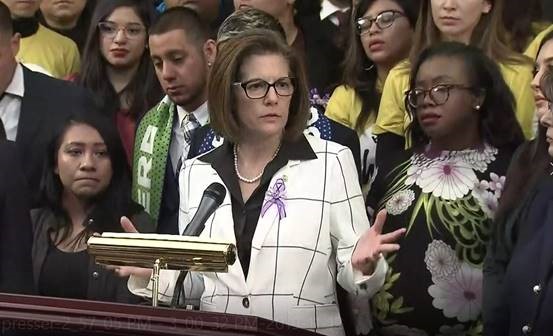 Washington, D.C. – After the U.S. Supreme Court heard oral arguments in the case that will determine the future of the Deferred Action for Childhood Arrivals (DACA) program, U.S. Senator Catherine Cortez Masto (D-Nev.) joined Democratic Members of Congress and Dreamers in a press conference calling on the Administration to reverse the termination of the program. She also pressed Senate Republicans to allow a vote on the House-passed Dream and Promise Act, which would offer a path to citizenship for Dreamers. In her remarks, Senator Cortez Masto called on President Trump to meet with her and Dreamers and listen to their stories.
You may download video of the senator's remarks HERE.
"Mr. President, if you truly love Dreamers and you want to do right by them, their families and this country, then I offer to you to come with me and sit down with some Dreamers and talk with them. Learn who they are, listen to their stories, and you will understand, like the rest of us, that they are an integral part of who we are as this country, as Americans, as the United States. And what we have done year after year is open our doors to the best and brightest, because what you have behind us are the best and brightest. So I make that offer – do the right thing."
BACKGROUND:
The Trump Administration's September 5, 2017 termination of the DACA program has left 700,000 DACA recipients – 12,000 in Nevada – in legal limbo. Several injunctions issued by U.S. District Courts have temporarily shielded existing DACA recipients from deportation and allowed them to renew their DACA status. However, no new applications are being accepted.
DACA recipients whose work permits expire in 2019 and 2020 are strongly encouraged to submit their renewal applications. Nevadans who have questions related to their immigration cases should contact Senator Cortez Masto's Las Vegas and Reno offices or reach out through the senator's website.