August 22, 2022
In Las Vegas, Cortez Masto Demands Urgent Action to Address Drought
Senator Cortez Masto delivered $4 billion in funding to combat drought through the Inflation Reduction Act, and today she called on the Department of the Interior to submit a detailed plan to ensure this funding is used to ensure other states along the Colorado River Basin are pulling their weight when it comes to water conservation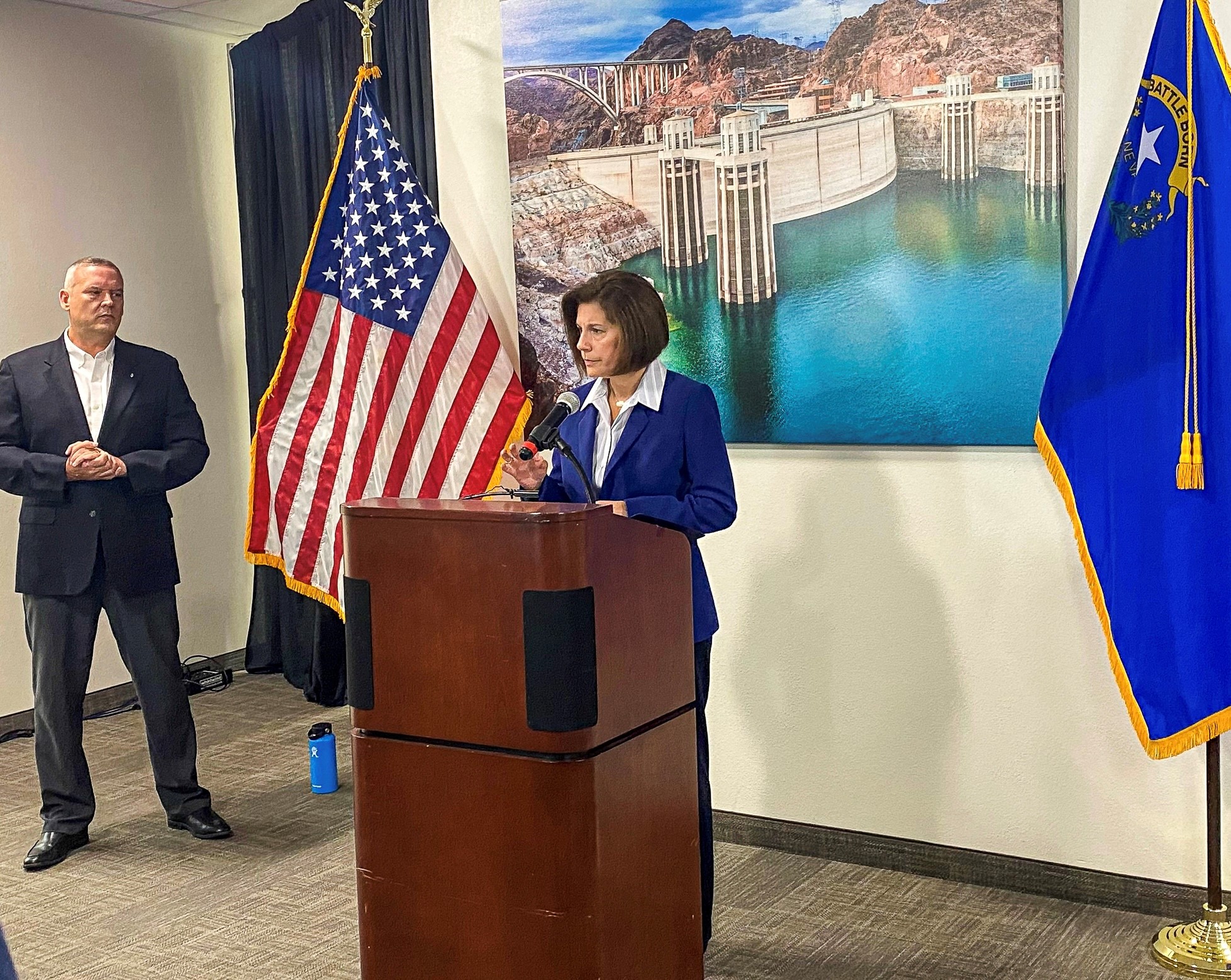 Washington, D.C. – Today, U.S. Senator Catherine Cortez Masto (D-Nev.) and Southern Nevada Water Authority (SNWA) General Manager John Entsminger called on the administration to take significantly stronger federal action to ensure all states are contributing to water conservation along the Colorado River. Specifically, Cortez Masto demanded that within 90 days, the administration deliver a detailed, timely plan to disburse the $4 billion in drought funding that she secured in the Inflation Reduction Act. She also called for the distribution of the drought funding to be contingent on assurances that other states along the Colorado River will contribute their fair share to water conservation and implement comprehensive conservation actions as Nevada has done and continues to do.
"I've led efforts in Congress to get Nevada the resources it needs to combat drought, and we're leading the way in water conservation," said Senator Cortez Masto. "But this administration urgently needs to take a stronger role in ensuring that all states along the Colorado River take the actions that Nevada already has, so that all states along the Colorado River Basin are contributing their fair share to addressing this crisis."
The U.S. Department of the Interior (DOI) recently announced that Nevada will face an 8% cut in its annual water allocation from the Colorado River for 2023, even though the state uses less water than it did 20 years ago as well as less than its current allotment from the Colorado. Last Week, Senator Cortez Masto sent a letter to DOI urging the administration to take stronger federal action to ensure that all states along the Colorado River Basin are contributing their fair share to meeting the severity of this crisis.
Senator Cortez Masto has diligently worked to combat drought and support water infrastructure. The Inflation Reduction Act includes $4 billion that Senator Cortez Masto secured to combat drought in the West. Senator Cortez Masto also drafted legislation for the Bipartisan Infrastructure Law she helped pass to create a $450 million competitive grant program for large-scale water recycling projects across the Western U.S., and she is continuing to build on the popularity and success of this program. Earlier this year, Senator Cortez Masto pushed to protect Nevada's drinking water through the Senate passage of the Drinking Water and Wastewater Infrastructure Act and secured a total of $17 million in Bipartisan Infrastructure Law funding for the Lake Tahoe Basin over the next five years. She was also instrumental in passing the Colorado River Drought Contingency Plan Authorization Act, which requires the Department of the Interior to carry out the Colorado River Drought Contingency Plan signed by the seven Colorado River Basin states, including Nevada.
###
---
---
Next Release
Previous Release