September 28, 2022
Cortez Masto Commemorates Upcoming 5th Anniversary of Route 91 Harvest Festival Attack in Speech on the Senate Floor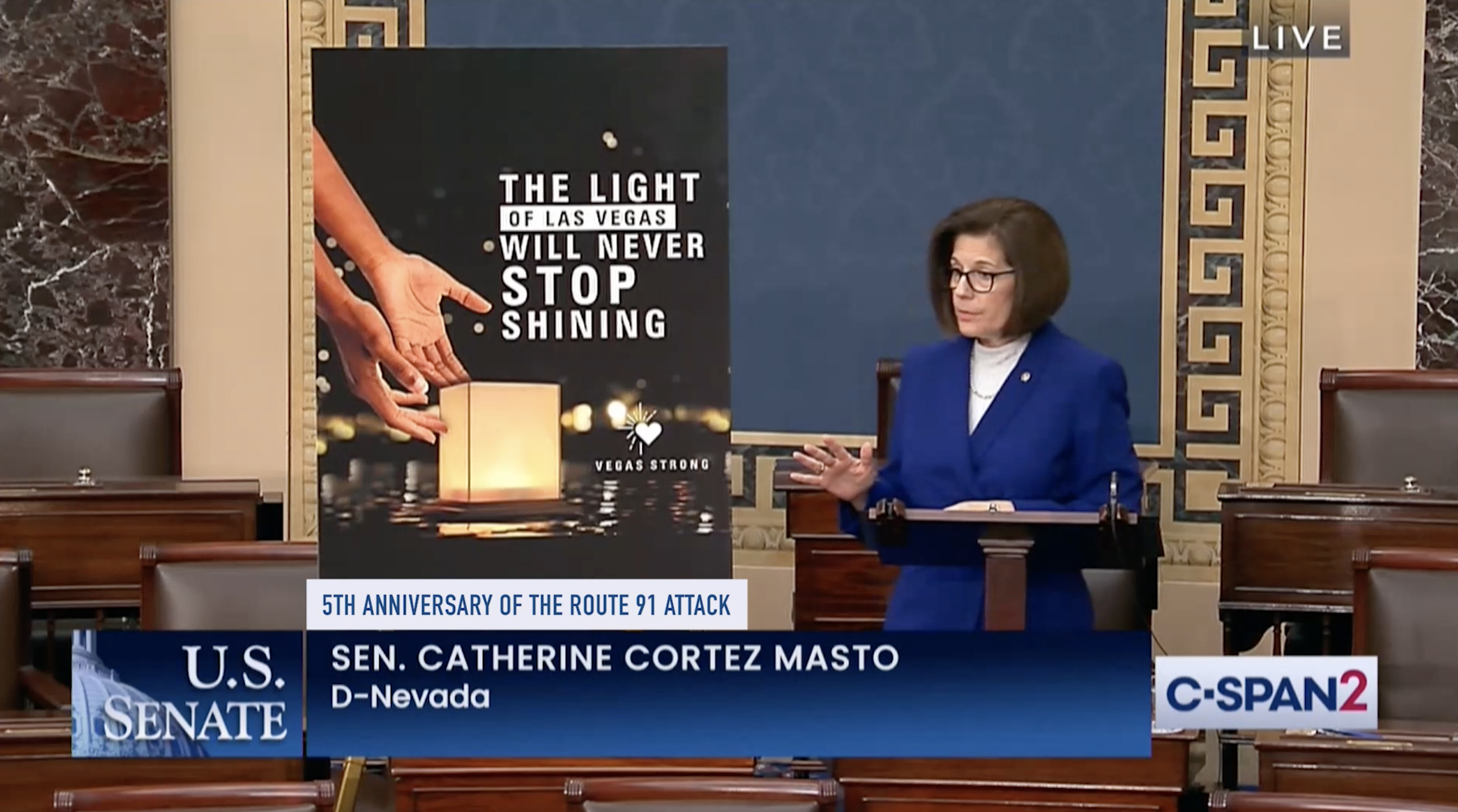 "I know for many in Las Vegas and all over Nevada, this week especially will bring difficult reminders of that dark day five years ago. But it will also bring a renewed determination to heal, to memorialize, to honor those who were affected, and to work toward a safer future."
Washington, D.C. – Today, U.S. Senator Catherine Cortez Masto (D-Nev.) spoke on the Senate floor to commemorate the upcoming 5th anniversary of the Route 91 Harvest Festival shooting in Las Vegas on October 1, 2017.
Below are her remarks as prepared for delivery:
Five years ago, my home town of Las Vegas endured one of the darkest days in its history.
On a beautiful autumn evening, the Route 91 Harvest Music Festival was interrupted when a gunman showered the concert with bullets from a high-rise hotel room. Those who were at the festival—including my niece—at first thought the gunshots were fireworks, but soon realized that something much more deadly was unfolding.
58 people lost their lives that night, and two more have died in the years since the attack. Over 850 people were wounded, and tens of thousands who attended the concert or helped respond to the shooting bear the visible and invisible scars of that night.
It's hard to overstate the scale of the devastation of that night, and it remains the worst mass shooting in modern American history.
As soon as the gunfire broke out, first responders sprang into action, as did ordinary citizens, turning concert barriers into stretchers and trucks and cars into makeshift ambulances.
Doctors and nurses rushed to hospitals, and thousands of people lined up all over the state to donate blood.
Individuals and businesses contributed food, blankets, airline tickets home, or whatever survivors might need.
At the worst of times, Nevadans came together to support one another. And they have worked to help each other since.
Local businesses have supported the construction of a healing garden. The commission working on a permanent memorial continues to make progress, and this summer, it invited the public to participate in its planning.
And scholarship funds and activity groups continue their work to support the children of victims and survivors.
And this weekend in Las Vegas, thanks to the work of the Vegas Strong Resiliency Center, bereaved families, survivors, first responders, and community members will light lanterns together to honor the strength, light, and resilience of the Las Vegas community.
The fact is, though, that trauma leaves its marks. Many of those touched by the Route 91 attack say that the shooting created a permanent "before" and "after" for them. It fundamentally changed their lives.
And America has seen far too many of these mass attacks, from Orlando to San Jose, Parkland to Buffalo.
Most recently, of course, this summer saw the horrific shooting in Uvalde, Texas of 19 students and 2 teachers.
In the wake of Uvalde, Route 91 survivors Geena and Marisa Marano came to see me. They're sisters whose experiences at the festival inspired them to work for change. They told me that knowing how difficult it has been for them as survivors of a mass attack, they couldn't imagine what children who survived Uvalde were going through. And so they were in Washington to call once again for change.
This time, they succeeded. Over the summer, Congress passed and the President signed the bipartisan Safer Communities Act, which contains a range of commonsense provisions to reduce gun violence in America.
I can't emphasize this accomplishment enough. People thought that passing bipartisan gun safety legislation was impossible.
But because of the work and dedication and advocacy of so many—including Route 91 survivors like Marisa and Geena—we got it done. I'm especially proud that I was able to help secure enhanced background checks for those under 21, as well as additional mental health funding in schools.
Many survivors will be the first to say the work isn't finished yet.
They're going to continue to push for commonsense reforms, and I will support them as I always have.
Because these shootings are just devastating for whole communities. I know for many in Las Vegas and all over Nevada, this week especially will bring difficult reminders of that dark day five years ago.
But it will also bring a renewed determination to heal, to memorialize, to honor those who were affected, and to work toward a safer future.
I'll continue to stand with my home town and with survivors, and to do everything I can to work for those same goals.
###
---
---
Next Release
Previous Release