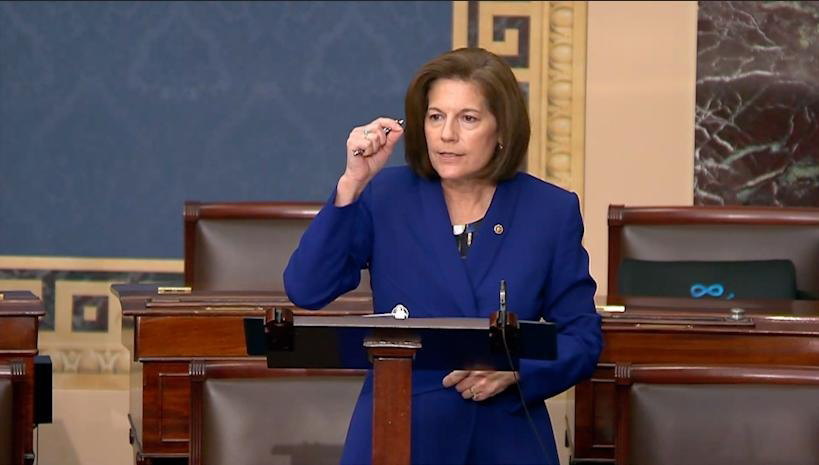 FTP for TV stations of her remarks is available here, and her rebuttal is available here.
Cortez Masto tells the harrowing story of a woman who was forced to travel out of state to get the health care she needed.
Washington, D.C. – U.S. Senator Catherine Cortez Masto (D-Nev.) took to the floor of the Senate to call out far-right Republicans for working to restrict women's constitutional right to travel out of state to seek abortion care. Ahead of the one-year anniversary of the Supreme Court overturning Roe v. Wade, Cortez Masto sought unanimous consent to pass her bill, the Freedom to Travel for Health Care Act, which would stop anti-choice states from limiting travel for reproductive health care services. Far-right Republicans blocked it.
"We're talking about upholding a constitutional right to allow women to travel outside their home state. Now, why do some of my anti-choice colleagues want to restrict women from moving freely between states? The answer is simple," said Cortez Masto before calling on her colleagues to pass her Freedom to Travel for Health Care Act. "They don't trust women to have control over their own bodies. Well, I do. And I'm going to keep doing everything in my power to protect women, not just in Nevada, but in every state across the country."
"Constitutional rights don't enforce themselves, and my colleagues on the far right only cloak themselves in the Constitution when it suits them. And right now, it really doesn't suit them," said Cortez Masto after far-right Republicans blocked her bill. "That's why far-right Republicans and state legislatures across the country are working on and passing laws specifically focused on restricting a woman's right to travel for reproductive health care, something I noticed my colleague from Utah seemed to ignore – that Tennessee, Texas, Missouri are some of those states."
Senator Cortez Masto has been a fierce advocate for women's reproductive rights. She has urged the Federal Trade Commission (FTC) to protect the data privacy of women seeking reproductive health care and introduced legislation to make sure women across the country have access to affordable over-the-counter birth control. She took on one of the nation's biggest pharmaceutical wholesalers to ensure Nevadans can access the abortion pill in retail pharmacies, including Walgreens.
###