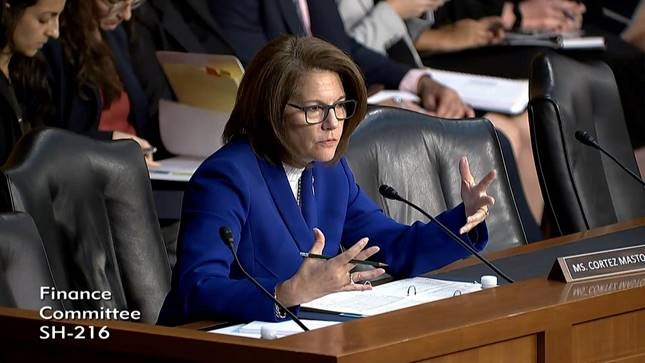 Washington, D.C. – At a Senate Finance Committee hearing today, U.S. Senator Catherine Cortez Masto (D-Nev.) called for additional oversight over private companies offering Medicare health plans, also known as Medicare Advantage, in response to misleading and predatory advertising targeting seniors.
"I have heard form Nevadans, including staff in my own office who are trying to help their parents, and they are trying to enroll in Medicare coverage for the first time. They meet with a broker or see an advertisement about Medicare Advantage plan offering zero dollar premiums or boundless supplemental benefits. Sounds good. Often too good to be true," said Senator Cortez Masto. She went on to caution that these advertisements are often misleading.
Christina Reeg, Senior Health Insurance Information Program Director for the Ohio Department of Insurance, warned that advertisements for plans with a zero dollar premium often have high "hidden" fees for services including impatient hospitalization, out-of-pocket costs, mental health services, or other care critical to seniors' overall health.
Senator Cortez Masto went on to call for stronger oversight and more frequent use of special enrollment periods would help protect seniors from predatory practices, noting "the goal here is to make sure this is not as complex for seniors so they can access it and keep more money in their pocket."
Senator Cortez Masto has worked to strengthen the Medicare program to provide affordable, quality health care for seniors. She passed legislation to allow Medicare to negotiate lower drug prices and cap the cost of insulin at $35-a-month for Medicare recipients through the Inflation Reduction Act. She has also pushed pharmacy benefit managers to help continue to lower prescription drug costs. She recently introduced bipartisan legislation to provide patients with transparent and timely access to prescription medications and treatments.
###