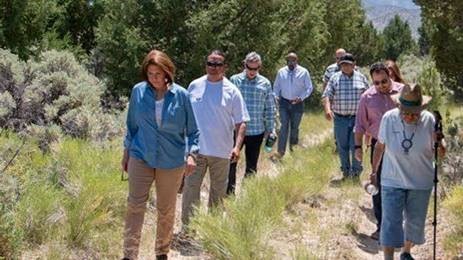 In Case You Missed It, U.S. Senator Catherine Cortez Masto (D-Nev.) spoke with the Reno Gazette Journal about her work with tribes in Nevada to recognize Bahsahwahbee as a national monument.
Bahsahwahbee is a site of extreme cultural and historical significance to Tribes in Nevada and is home to a sacred and ecologically-unique grove of juniper trees. Senator Cortez Masto has personally called on the Biden administration and Interior Secretary Deb Haaland to support the creation of this monument.
Reno Gazette Journal: Cortez Masto working with tribal communities for national monument status for sacred site
By: Miles Yellow Swan
Since the introduction of a proposal to preserve Bahsahwahbee, a region in eastern Nevada that is sacred to the Duckwater Shoshone, Ely Shoshone and Goshute tribes, U.S. Sen. Catherine Cortez Masto, D-Nev., has made a point to ensure that the issue receives attention.
Bahsahwahbee, sometimes referred to as Swamp Cedars due to the presence of Rocky Mountain juniper trees, is the site of three separate massacres of Indigenous people in the late 1800s, two committed by the U.S. Army and one by vigilantes. The site is considered sacred by local Indigenous people who believe the trees hold the souls of their murdered ancestors.
Now, tribal elders are asking the U.S. government to protect Bahsahwahbee by designating the region a national monument.
"For me, as a member of the Senate Indian Affairs committee … one of my top priorities is to engage with tribal nations in Nevada and across the country to understand and advance their priorities," Cortez Masto told the RGJ. "One of the priorities is the protection of places of cultural and historical importance, like Bahsahwahbee."
Cortez Masto recently visited the site, speaking with tribal citizens there who support the measure to turn Bahsahwahbee into a national monument.
"Just being there and listening to why they feel this is important to protect … many of them also focused on the fact that they descended from victims of these massacres, and that the swamp cedars, they believe, are the embodiment of their ancestors," Cortez Masto said.
"By making it a national monument, you're giving it permanent protection," she said. "By designating it as a national monument, the intent is to focus on the reason behind it … it is a sacred connection for those tribes in Nevada. It's an area of land where their ancestors were killed during some 19th century massacres."
Some critics consider the national monument method of land protection counter-intuitive to strengthening Indigenous sovereignty, noting that creating monuments still keeps the land in the hands of the U.S government rather than tribes. Cortez Masto, however, doesn't pay much mind to the criticism.
"I can tell you what the tribes of Eastern Nevada want, and I'm listening to them. This is an ask by those three tribes: the Duckwater Shoshone, the Ely Shoshone, and the Confederated Tribes of the Goshute … this is their ask," she said.
In addition to the fight to designate Bahsahwahbee a national monument, Cortez Masto has also been a part of the fight to address the Missing and Murdered Indigenous Women (MMIW) crisis in Congress.
"I will continue … to work with our tribes, to protect their sacred sites, to create a living tribute, which this is, to their ancestors who were killed during these massacres," she said. "But I also will continue to fight the epidemic of missing and murdered Indigenous women.
"We are doing everything we can at a federal, state, and local level, with the tribes, to curb this epidemic."
The FBI's National Crime Information Center reported 5,487 missing Indigenous females in 2022, disappearing at a rate equal to more than two and a half times their estimated share of the U.S. population. The real rate of missing Native women is likely higher due to a lack of comprehensive federal data.
Cortez Masto worked to pass the Not Invisible Act and Savannah's Act into law. Both pieces of legislation sought to improve resources to address the disproportionate disappearances of Native women. Going forward, however, she says that more needs to be done to protect Native communities.
"I think we need to continue to make sure that the prosecutions are happening, that the investigations are happening, that there's enough resources at a federal level and we're working with our tribal communities and tribal judges to address this issue," she said. "There's still a lot of challenge when it comes to jurisdictional issues, there's still a lot of challenges when it comes to resources at a federal level, and the willingness to focus on these crimes. There needs to be more oversight by congress when it comes to ensuring our federal partners are participating and are at the table with the tribes."
While awaiting a land designation for Bahsahwahbee and further resources to fight the MMIW crisis, tribal communities continue to push their representatives for the necessary tools to protect their lands and fight dangerous conditions on tribal lands. Cortez Masto says that while advocacy groups and congressional committees continue to push for improvements, there are some solutions that are still out of reach.
"It's a challenge, there's a lack of resources. A lack of federal resources," she said.
###