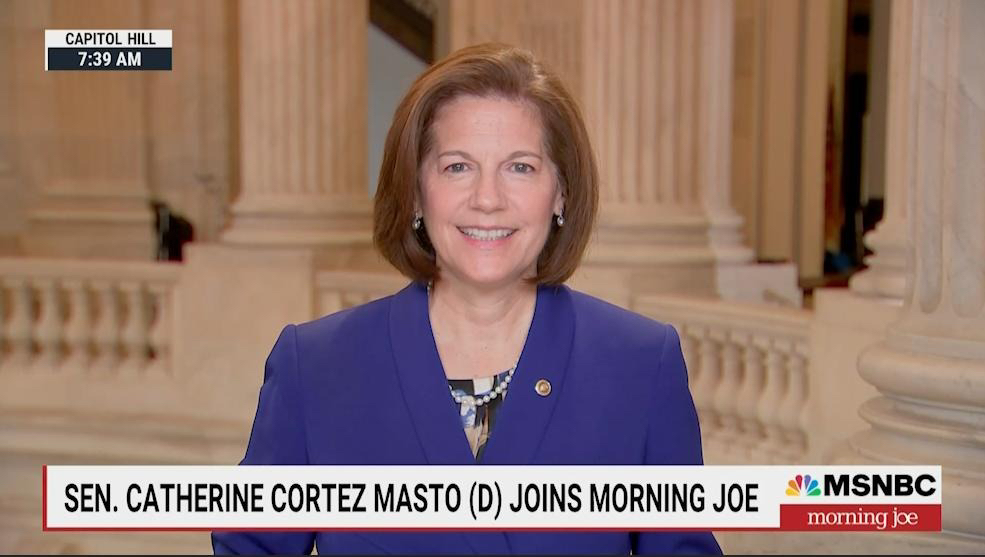 In Case You Missed It, Senator Catherine Cortez Masto (D-Nev.) appeared on Morning Joe to call out far-right Republicans for working to bar women from traveling to pro-choice states like Nevada for abortion access. Yesterday, Cortez Masto reintroduced her Freedom to Travel for Health Care Act to protect the right of women to cross state lines for reproductive care, and she heads to the Senate floor this afternoon to call on her colleagues to pass this legislation by unanimous consent.
"What I am seeing now across the country with legislatures and others that want to criminalize women for just traveling to states like Nevada, where we respect a woman's right to choose," said Senator Cortez Masto. "And so, this legislation is important, it's supported by the Democrats. Unfortunately, Republicans are not there, and I would hope that they would get on board."
"The Republicans that I'm talking to are really pushing us back to this 19th century politics when we have 21st century medicine that should be helping women – all women, no matter their religion, their background, what their party is," Senator Cortez Masto added. "It's really about making sure women have access to the essential health care that they need in this country."
You can watch the interview HERE.
Senator Cortez Masto has been a fierce advocate for women's reproductive rights. She has urged the Federal Trade Commission (FTC) to protect the data privacy of women seeking reproductive health care and introduced legislation to make sure women across the country have access to affordable over-the-counter birth control. She took on one of the nation's biggest pharmaceutical wholesalers to ensure Nevadans can access the abortion pill in retail pharmacies, including Walgreens.
###