In Case You Missed It, U.S. Senator Catherine Cortez Masto (D-Nev.) spoke at the Senate Energy and Natural Resources Committee Hearing yesterday, calling out oil and gas companies for prioritizing payouts to shareholders rather than using their record profits to help lower prices and responsibly ramp up domestic production. The full hearing is available for download here.
KRNV: Sen. Catherine Cortez Masto accuses gas companies of "putting profits over consumers"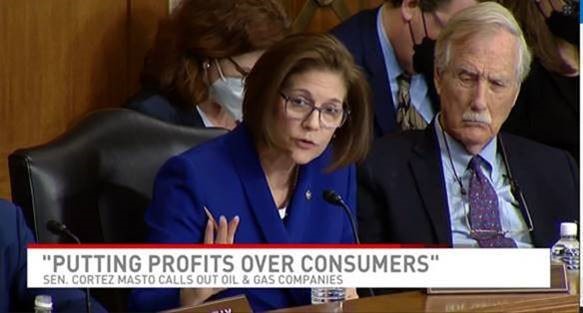 Nevada Senator Catherine Cortez Masto is lobbing questions at oil and gas company leaders, accusing them of putting profits over the needs of Nevadans
She said, "…they would rather use their earnings from higher prices to boost payouts to shareholders and expand their operations slowly rather than rush to drill new or develop exiting wells."
She said the six biggest publically traded gas companies reported $90 billion in profit last year on top of $3 billion in taxpayer subsides. She wants them to do more to bring the cost of gas down, produce more oil, and look out for customers more.
[…]
She says the oil and gas companies have 9,100 approved permits to drill and 14 million acres of land that haven't been used. Also coming up in that hearing today, they've been underinvesting in drilling at the suggestion of investors for five years. The Senator says that shows this is not the Biden Administration's fault.
KLAS: Cortez Masto Questions Oil and Gas Companies on Their Efforts to Lower Gas Prices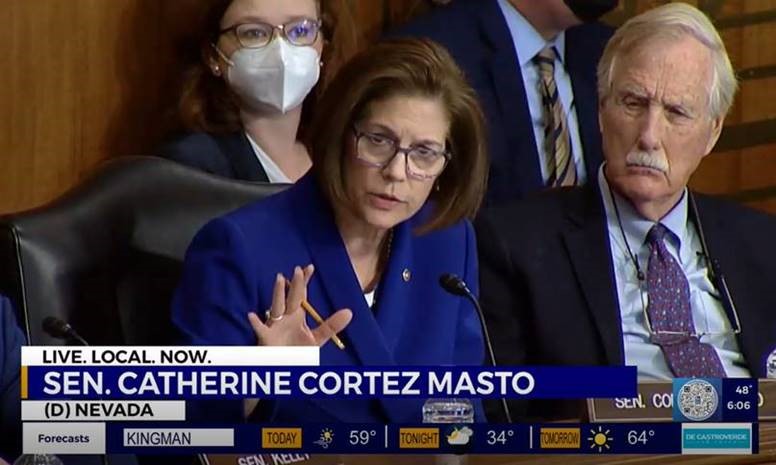 "Today at a Senate Energy Hearing, Nevada Senator Catherine Cortez Masto questioned oil and gas companies on their efforts to lower gas prices."
Senator Cortez Masto said, "I only have so much time, but my question is this: why are you prioritizing your payouts to your shareholders instead of working to increase the oil supply? Let me ask you this, would your company be willing to forgo paying out dividends to pass along that relief to consumers who are seeing high prices in my state and across the country."
[…]
Now, according to Cortez Masto, oil and gas companies currently hold more than 9,000 approved but unused permits to drill in here in the U.S. She says this week, multiple reports show companies, including Chevron, Shell, and Exxon, used their record profits to pay their shareholders, instead of increasing oil production to lower prices for consumers.
Washington Post: Sen. Cortez Masto accuses Shell VP of 'prioritizing payouts to shareholders' amid Russian invasion, high fuel prices
As gas prices continue to hit record highs in the wake of the Russian invasion of Ukraine, American lawmakers are questioning what oil companies are doing now that the Biden administration has banned all imports of oil and natural gas from Russia.
So when a Shell executive appeared at a Thursday hearing before the Senate Committee on Energy and Natural Resources, Sen. Catherine Cortez Masto (D-Nev.) asked why major oil companies nationwide have recently acknowledged that they would prefer to use the earnings from higher gas prices to give more lucrative payouts to shareholders rather than look to drill new or existing wells.
"Can you explain at a time like this why your company would be prioritizing payouts to shareholders rather than working to increase our oil supply?" the senator asked.
Colette Hirstius, senior vice president at Shell Gulf of Mexico, a Shell subsidiary, responded by saying the company believed it was important to "continue to proceed to increase all of the energy sources that we have."
But she was interrupted by the Democrat, who repeated her question: "Why are you prioritizing your payouts to your shareholders instead of working to increase the oil supply?" Cortez Masto then asked Hirstius whether Shell would be willing to forgo paying out dividends to shareholders and instead pass along those earnings from the higher gas prices to consumers. The cost per gallon of gasoline in the United States hovered around $4.30 on Wednesday, shattering a record of $4.10 set just before the financial crisis in 2008, according to the price-tracking service GasBuddy.
After the Shell executive emphasized that gas prices are something the company does not control, Cortez Masto asked for clarification about whether the oil giant would consider passing off their dividends "to consumers who are hurting right now."
"We are committed to continue to invest and make sure that our production does not decline," Hirstius said.
###