In Case You Missed It, Senator Catherine Cortez Masto (D-Nev.) introduced legislation to provide water for over a million Nevadans by allowing Southern Nevada Water Authority's (SNWA) Horizon Lateral water pipeline project to move forward under the Sloan Canyon National Conservation Area (NCA). This pipeline will dramatically improve Las Vegas's water system and protecting residents from outages, facilitate the responsible construction of this pipeline, and protect additional sensitive desert landscape by increasing the size of Sloan Canyon NCA. 
Read more:
In the Las Vegas Review-Journal:
Sen. Catherine Cortez Masto, D-Nev., will introduce legislation Thursday to push forward a proposed water pipeline project that would go underground through Sloan Canyon National Conservation Area.
The Southern Nevada Water Authority's Horizon Lateral 30-to-40-mile water pipeline project would have the capacity to carry 375 million gallons of water per day to Henderson and the southern Las Vegas Valley. The pipeline would work in tandem with the only other pipeline that serves Henderson residents and would provide a safeguard in case of leaks.
"Innovative projects like the Horizon Lateral pipeline could protect water access for more than a million Nevadans and ensure Las Vegas has sustainable, reliable water infrastructure," said Cortez Masto in a statement Wednesday.
Here on a Thursday morning: getting water to more of Nevada. SNWA is looking to looking to build a second a pipeline under Sloan Canyon… Now, this project would make sure water is still being pumped to the area when the current pipeline hits capacity.
Nevada Senator Catherine Cortez Masto says she's introducing a bill to move the project forward and help pay for it. By putting it under Sloan canyon, she says it would save 200 million dollars.
About a million people in Henderson and other areas in the southern part of the valley get the water from the current pipeline, it's expected to reach capacity in about ten years.
In the Associated Press:
A proposal to tunnel beneath a national conservation area to install a second pipeline to deliver Colorado River water to a large swath of suburban Las Vegas has drawn support from Nevada's senior Democratic senator.
U.S. Sen. Catherine Cortez Masto announced Thursday she introduced legislation asking Congress to let the Southern Nevada Water Authority drill the underground pipeline through part of Sloan Canyon National Conservation Area.
"This legislation will increase the capacity of our entire water system in the (Las Vegas) valley while protecting our unique ecosystems and the residents and businesses in Henderson," Cortez Masto said in a statement.
Federal funds are not part of the $2.5 billion project cost, and construction is not expected to begin for at least two years, said Bronson Mack, water authority spokesman. Construction is not expected to disturb the desert surface, although survey work would be conducted.
On KVVU:
Senator Catherine Cortez Masto is introducing a bill today that will help allow for the construction of a new water pipeline in Southern Nevada. The legislation allows the Southern Nevada Water Authority's Horizon Water Pipeline Project to move forward with the permitting process.
This second pipeline, which would be constructed underground through the Sloan Canyon Conservation Area, would provide water for over a million Nevadans.
The Horizon Project will increase reliability of water delivery into the Southern portion of the Valley. The Senator says this plan will also be more cost-effective.
And on KSNV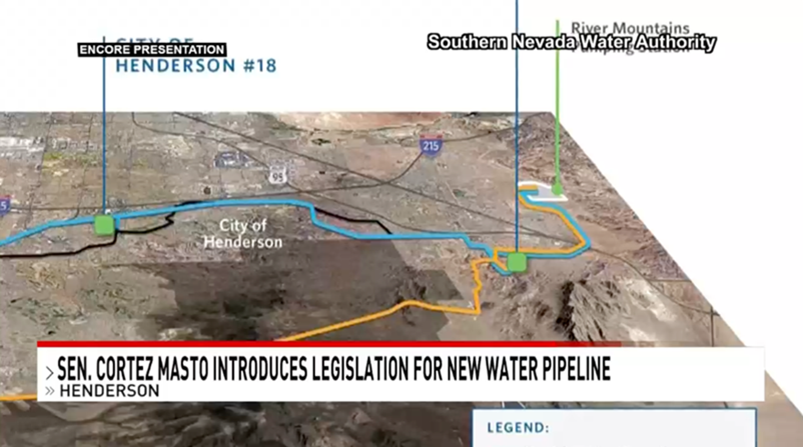 Cortez Masto said without her bill, the alternative route for the proposed pipeline would cost over $200 million more to construct and disrupt significant portions of residential and business land in Henderson.
"This is a new pipeline that continues to support the needs of so many living in Southern Nevada as well as the growth. Because we know many people are still coming to Southern Nevada. It anticipates through additional capacity more growth as well," she said.
"The goal here is to go under the conservation area, minimal impact to the environment," she said.
###