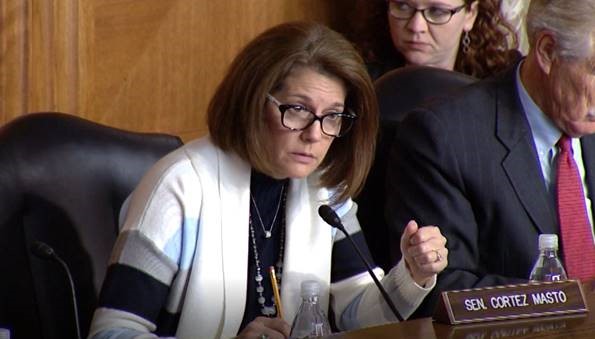 Washington, D.C. – At a Senate Committee on Energy and Natural Resources subcommittee legislative hearing today, the Honorable Daniel Simmons, Assistant Secretary for the U.S. Department of Energy (DOE), discussed U.S. Senator Catherine Cortez Masto's (D-Nev.) Renew America's Schools Act and its potential to help schools meet their energy efficiency guidelines. The legislation introduced by Senator Cortez Masto would help America's schools make critical infrastructure upgrades that improve energy efficiency and reduce costs. In his comments, Mr. Simmons emphasized the work the Department of Energy is already doing to improve energy efficiency in schools and agreed that Senator Cortez Masto's legislation would help the Department reach their efficiency goals.
"Energy costs from K-12 schools total approximately $8 billion annually nationwide. According to the EPA, $2 billion of these dollars could be saved by improving energy efficiency. In your testimony you mentioned that the Department of Energy currently provides technical assistance to a number of  K-12 schools across the country to help them achieve voluntary commitments of 20% or better energy savings in their buildings through the 'Better Buildings Challenge'. Do you believe the Renew America's Schools Act will assist the DOE in achieving these targets?" the Senator asked.
"With helping those schools achieve their targets, yes," Assistant Secretary Daniel Simmons responded. "Any time that we have increased emphasis coming from Congress, it is obviously very important to the Department because we strive to follow Congressional guidance and, more importantly, we strive to meet our statutory obligations."
Full video of this exchange is available here.
BACKGROUND:
There is currently a $46 billion annual shortfall in funding for public school infrastructure. In schools throughout the country, buildings often lack proper heating, ventilation, and air-conditioning systems. Energy costs for K-12 schools total approximately $8 billion annually nationwide but according to the Environmental Protection Agency, $2 billion of those dollars can be saved by improving energy efficiency. This cost is equivalent to about 40 million new textbooks or hiring an additional 50,000 teachers at current salaries.
The Renew America's Schools Act creates a federal grant program through the Department of Energy that would provide $100 million yearly for five years to provide funding to K-12 schools to make eligible energy efficiency improvements. Those eligible energy efficiency improvements include:
Facility improvements for air quality, daylighting, ventilation, and lighting upgrades;
The installation of renewable energy technologies to power school systems;
The purchase of zero-emissions vehicles and the installation of necessary infrastructure for those vehicles.
###