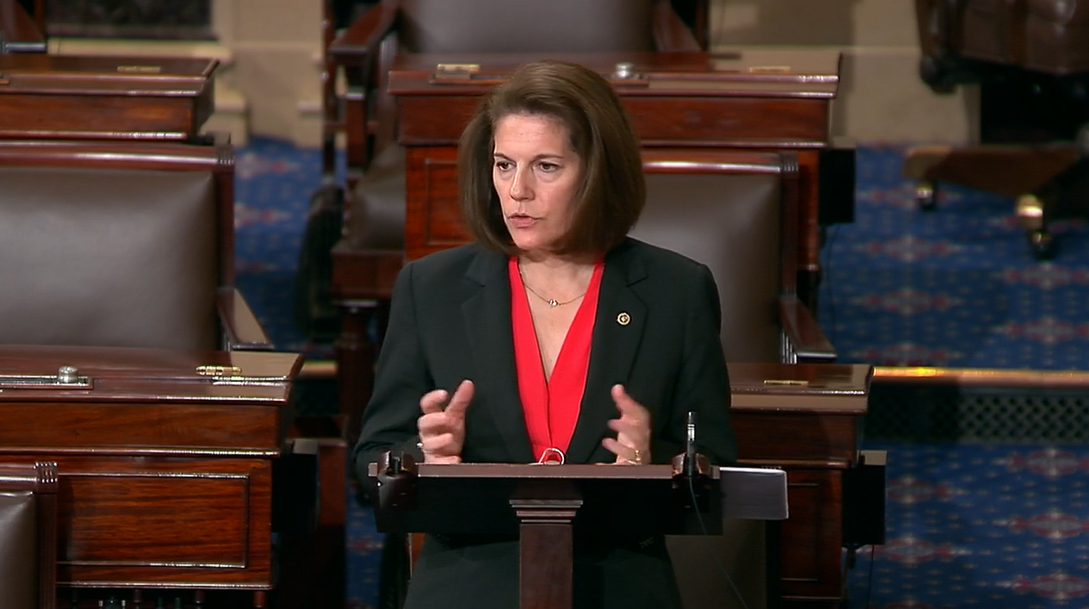 Washington, D.C. – U.S. Senator Catherine Cortez Masto (D-Nev.) delivered remarks on the Senate floor urging her colleagues to support the End Mass Deportation Act. This bill – the first piece of legislation introduced by Cortez Masto during the last Congress – would rescind President Trump's January 2017 Executive Order on Interior Enforcement, which prioritized the deportation of a majority of undocumented immigrants living in and contributing to U.S. communities.
Below are her remarks as prepared for delivery. Senator Cortez Masto's remarks are available in both AUDIO AND VIDEO FORMAT. You may download video of the speech HERE and audio HERE.
I take the floor today to urge my colleagues to halt the President's indiscriminate deportation machine. This administration is targeting immigrants who are deeply woven into our communities, and this inhumane approach must end.
For thirty years, David Chavez-Macias, who was born in Mexico, lived in Reno, Nevada. He worked as a landscaper during the week and went to church on Sundays. He raised four children. And he tried to follow the law: he paid his taxes and hired attorneys to help him become an American citizen.
In 2013, he was pulled over for turning left as the streetlight changed. That traffic stop brought him to the attention of immigration enforcement.
The previous administration permitted Mr. Chavez-Macias to stay with his family. After all, he had a heart condition that required regular treatment, and he had been a hardworking community member for decades. Under this administration, though, David was deported to Mexico, ripping him from his family.
As the granddaughter of immigrants, I understand how much immigrants like David Chavez-Macias contribute to American communities. And as a native of Nevada—a state where one in 5 schoolchildren have an undocumented parent—I know how deeply communities are hurt when we drive out longtime members.
That's why I'm introducing the End Mass Deportation Act to keep the Trump administration from pursuing people like David. This bill will make sure we're not indiscriminately targeting people for deportation who have contributed to their communities for decades.
Just days after taking office, President Trump issued an executive order that changed our immigration enforcement priorities. He gave ICE the green light to aggressively pursue anyone without papers, not just people who had committed serious crimes or posed a threat to public safety. My bill rescinds this cruel and counter-productive order.
Now, the Trump administration is deporting people who have lived in the United States—sometimes for decades—playing by the rules, providing for their families, starting businesses, and contributing to their communities. In Nevada, almost 90 percent of undocumented residents have been in the United States for more than five years.
These are people who own their own homes, who pay billions of dollars in taxes each year. Their children are citizens, legal permanent residents, and DREAMers. They are our neighbors, our co-workers, and our friends.
The impact of this policy on American families has been profound. Since President Trump signed his executive order, arrests of immigrants without criminal records have tripled.
The End Mass Deportation Act would make the administration focus our law enforcement resources where they should be: on people who pose a legitimate threat to our communities.
Historically, prosecutorial discretion was used to take into account the compelling circumstances of an individual's case, like parents who have US citizen children and strong ties to the community, or individuals who have served in our military.
As a former prosecutor, I understand what an important law enforcement tool this is. The President's mass deportation order ends prosecutorial discretion in our immigration system, taking valuable time and resources away from pursuing criminals and other security threats.
Even worse, the order makes us all less safe, because it discourages people without documentation from turning to police to report crime.
Put yourself in the shoes of an undocumented woman who is the victim of domestic violence or someone without papers exploited at the hands of an unscrupulous boss. When those crimes go unreported, our neighborhoods suffer.
Listen: I recognize that we have a broken immigration system. But the way to fix it isn't to persecute people like David, whose biggest offense is a traffic ticket.
We need to pass comprehensive immigration reform. But until we come together in a bipartisan way, we must rescind these executive orders that are not moving this debate forward in a useful way.
Let's reverse this administration's cruel and dangerous policy.
Immigrants enlarge our vision of who we live with, work with, and worship with. By passing the End Mass Deportation Act, we will remind all Americans that every generation of immigrants enriches the fabric of our nation. And we'll provide the sense of security that every family with undocumented members needs to thrive. I urge my colleagues to support it.