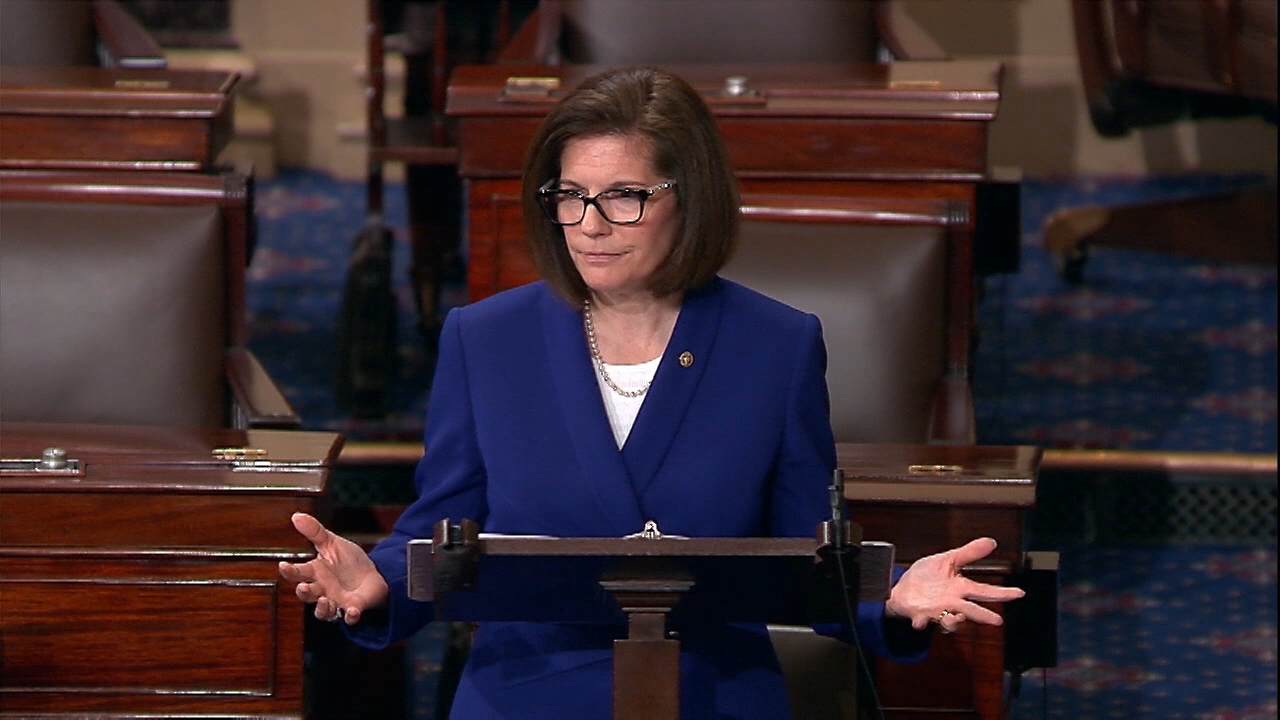 Washington, D.C. – U.S. Senator Catherine Cortez Masto (D-Nev.) spoke on the Senate floor highlighting the need to take climate change seriously and work in a bipartisan way to confront the growing climate crisis. In her remarks, the Senator urged the Senate Republican Leader to end his sham climate change vote and work across the aisle to confront climate change and protect the future of our planet. Below are her remarks as prepared for delivery.
Senator Cortez Masto's remarks are available in both AUDIO AND VIDEO FORMAT. You may download video of the speech HERE and audio HERE.
Climate change is real. It's harming our country. It's impacting our economy. And it's threatening the future of our kids.
You can see it clearly in my home state of Nevada. The last four years have been the hottest ever recorded. And we're on track to break that record again in 2019.
In Nevada, we're seeing longer, more dangerous heat waves, prolonged droughts and more severe wildfire seasons. Just this past year, more than 660,240 acres of private, Bureau of Land Management and U.S. Forest Service land burned in 138 fires starting in June of 2018.
The biggest fire in our states' history, and also one of the biggest in our country's history, happened just this past year. The Martin Fire burned more than 439,000 acres — an area about five times the size of Las Vegas.
I've heard from Nevada ranchers who are facing the tough choice to abandon the land their families have worked for generations due to the cost of recovery and the threat of even worse fire seasons.
And I've met with parents in Las Vegas and Reno who are worried about the impact worsening air quality will have on the health of their children.
It's not just happening in Nevada. Throughout our country, Americans are being displaced and communities are being ravaged by devastating hurricanes, tornadoes, wildfires and floods that are causing millions of dollars in damage to homes, businesses, and local economies.
And worldwide, carbon emissions levels reached a record high last year, increasing 3.1% in the U.S. alone, despite evidence that high emissions are driving changes in our climate and fueling extreme weather patterns.
Yet this Administration, and the Republican Leader have done nothing to act despite overwhelming support from Americans who want us to protect our planet and our communities.
In my home state, Nevadans know the stakes. In 2016, Colorado College polled voters in six western states about their views on climate change.
At the time, 58% of Nevadans expressed concerns that climate change was a "serious problem."
In January, Nevadans were polled again. This time almost 75% of Nevadans expressed serious concerns about climate change.
That's a 16% jump in just three years, and comes months after 60% of Nevadans supported a ballot initiative to expand Nevada's renewable energy portfolio to 50% by 2030 in the last election.
Across the country, Americans are worried about the impacts of pollution and carbon emissions on our climate, health, and our economy. They've seen the harm it's caused just over the last decade, and they are afraid it is only getting worse.
You don't have to look far to see that our climate is changing; it's already happening in our own backyards.
We have the evidence. There is a scientific consensus.
This isn't a fringe theory or a hypothesis asking to be debunked.
It's a serious crisis that must be met with serious action.
It's clear to younger generations of Americans who walked out of schools this month to demand climate action from their representatives in Washington.
Yet, despite overwhelming evidence that climate change is currently threatening our country, Leader McConnell and this Administration are sitting on their hands.
This Administration has repeatedly tried to scrub climate change information from federal agency websites, supported agency officials with deep ties to fossil fuel industries, and pulled the United States out of critical international agreements we need to collaboratively work together to avert climate disaster.
In the Senate, instead of working to find bipartisan solutions to one of our country's greatest threats, Leader McConnell is setting up a vote designed to be nothing more than a political stunt.
My Democratic colleagues and I take the threat of climate change seriously.
We won't support the Republican Leader's newest political game to call a sham vote. This isn't a vote about legislation, it's a cynical attempt to distract from the challenge confronting our country.
The fact is, Democrats all agree that we need to take urgent action to protect our environment and avert climate catastrophe.
Senate Democrats have put forth many new ideas on how to grow our economy and support American prosperity while addressing our world's growing climate crisis. We'd be happy to work with our colleagues to debate them on the floor.
From my seat on the Senate Energy and Natural Resources Committee, I'm continuing to fight for legislation to tackle climate change by supporting renewable energy production, protecting workers and creating good-paying, green jobs in Nevada, and across the country.
I call on Leader McConnell and my Republican colleagues; if you're serious about addressing climate change, then join us.
Senate Democrats will continue to fight for commonsense policies that reduce our dependence on fossil fuels and combat climate change, and we will continue to call on our colleagues across the aisle to work with us to tackle this challenge.
In both the House and the Senate, Democrats are working every day to craft smart and effective policies that will help safeguard our planet and grow our economy.
By forcing a vote now, Senator McConnell is denying us all the chance to come together to craft bipartisan, comprehensive climate change legislation through the legislative process.
The fact that this is the ONLY legislation regarding climate change that the Republican Leader has even brought to the floor, and he is urging his caucus to vote against it, that should tell you the Republican leader is not interested in taking this crisis seriously.
I hope he will stop this sham vote and join with Democrats to earnestly address climate change. Because this touches every one of us. It's about our climate. It's about our country's economy. It's about the future of our communities and our families.
And the reality is that we can't afford to waste time waiting for the Republican Party to get serious about tacking climate change.
The American people want action now.
I won't stand for Republican leaders using this vote in a cynical attempt to divide Democrats and stall progress.
I intend to keep my promise to fight on this issue and to protect the most vulnerable and marginalized, who often bear the brunt of the effects of unchecked climate change.
The American people continue to speak out for action on climate change.
And Senate Democrats will keep fighting – because our planet and future depend on it.
Thank you.
###