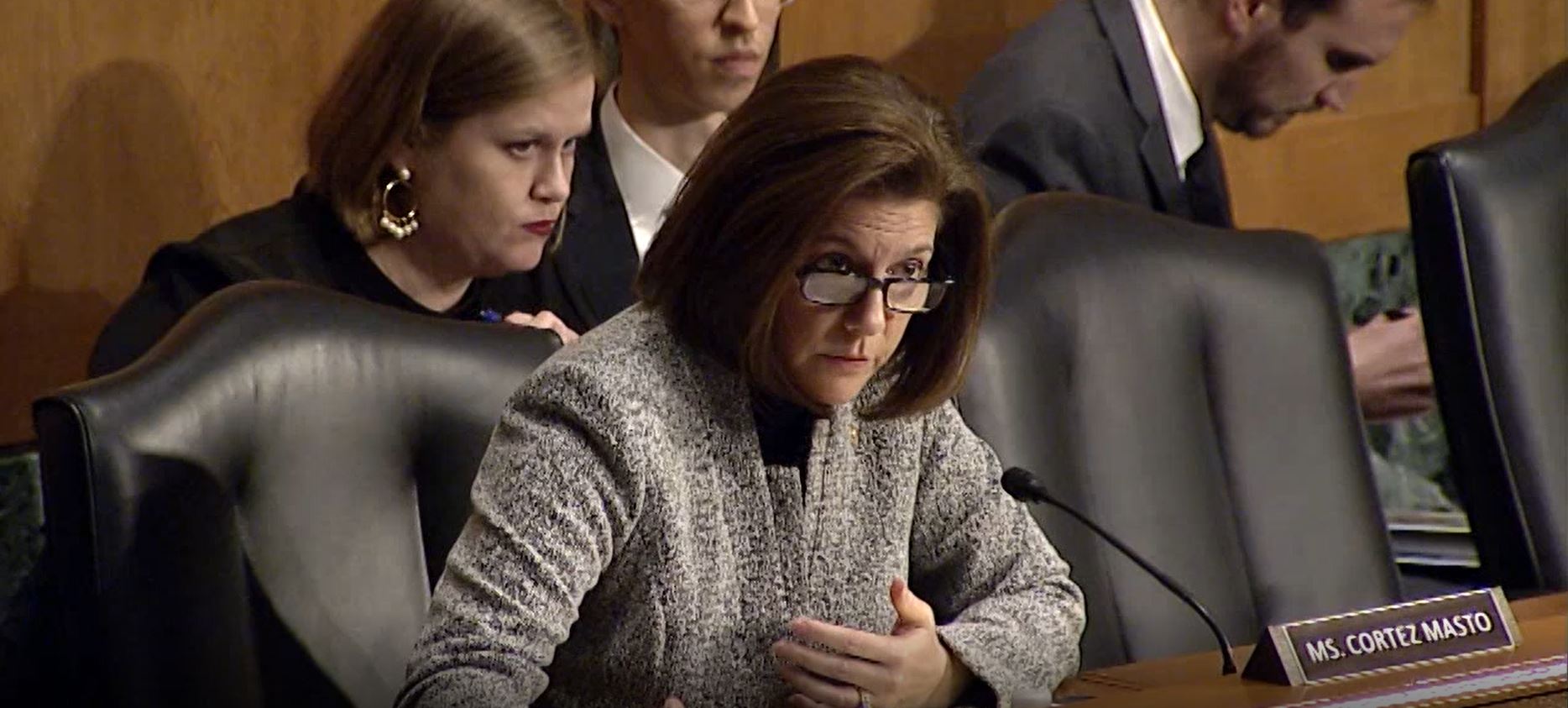 Washington, D.C. – U.S. Senator Catherine Cortez Masto (D-Nev.) today quizzed Treasury Secretary Steve Mnuchin about the deep cuts in the Trump administration's proposed 2021 budget to programs that benefit women, children, seniors, Americans with disabilities, farmers and students. She called on Secretary Mnuchin to be more honest and transparent with the people of Nevada about the impact that the budget cuts would have on important programs that protect the most vulnerable.
"[I]n the current budget," Senator Cortez Masto pointed out, "this administration seeks to cut $200 billion from SNAP and TANF for women and children, cut $170 billion from student loans, cut $90 billion from seniors on Social Security, cut $76 billion from persons with [a] disability and cut $59 billion from farmers. Is that what this administration thinks is the way to balance this budget—on the backs of individuals?"
Secretary Mnuchin responded that with regard to Social Security, "I believe it's not a cut, it's a reduction in the rate of increase. And it's not to the benefits of people on Social Security."
Senator Cortez Masto replied, "If that is not a cut, then I would love to talk to you about what it is this administration values and what they see, how these groups and important individuals in our communities are being affected. . . . And that's my concern is, this administration says one thing, but their actions are just the opposite. And I think it is important for us to really talk [about] the true facts, and not what you come here and read in your statements about what the administration claims that they are doing to the benefit of our communities. Because I can tell you, when I go home to Nevada, there are still people struggling."
Mnuchin again argued that cuts to Social Security were to "the rate of increase, not an absolute cut."
"Let's talk about it," said the Senator. "Because if you're cutting Social Security, and the resources, and the individuals, and the time for the people who work in Social Security to help people in need, then you're impacting the people of need."
Full video of this exchange is available here.
###