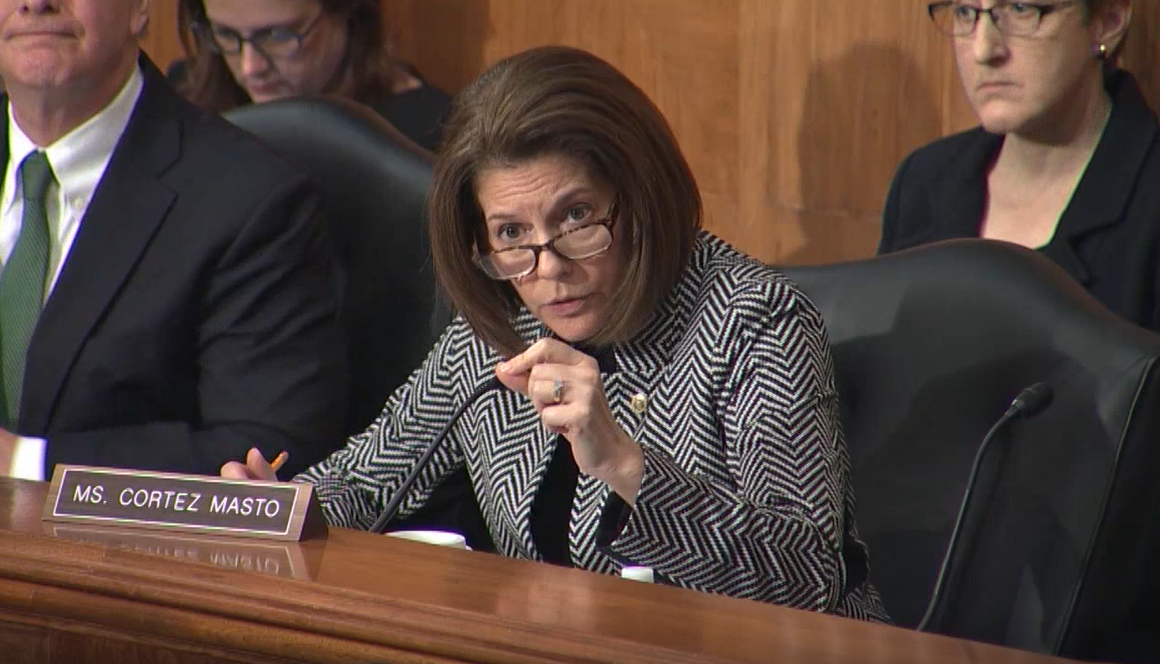 Washington, D.C. – In a hearing of the Senate Banking, Housing, and Urban Affairs Committee yesterday, U.S. Senator Catherine Cortez Masto (D-Nev.) questioned Jelena McWilliams, Chairman of the Federal Deposit Insurance Corporation (FDIC), about the imminent publication of a proposed rule to reform the Community Reinvestment Act (CRA). The CRA requires federal banking regulators, including the FDIC, to encourage financial institutions to meet the credit needs of the communities where they operate, including low-income neighborhoods and communities of color.
"Studies show that without the Community Reinvestment Act, the homeownership rate in our country, and especially for Latinos and African Americans, would be much lower. And I understand the FDIC is considering proposed changes to the Community Reinvestment Act. So, how would proposed changes to the CRA close the racial-ethnic homeownership gap? Is that something that is on your radar as you look at making these changes?" Senator Cortez Masto asked.
McWilliams responded: "It is absolutely on my radar as we're looking to make the changes. I think that the Act, frankly, can be revised to do more for those communities. It can do a whole lot more for rural communities, for small businesses, small farms, family farms, Indian Country. The Act has not been update since '95, and all I'm asking from folks is [to] be open minded to see when these proposed changes come through. Give us feedback – if there's something that you're concerned about that's not in the proposal, let us know."
"The intent of the proposal is basically to solicit comment from stakeholders including, you know, members of Congress and their constituents. And the intent here is not to undermine the purpose of the Act and what Congress intended. In fact, the intent – my personal intent – is to strengthen it and make sure that the things that are not existent in '95, but they do actually help low- and moderate- income and minority communities, get enhanced credits under the CRA and are accounted for appropriately," McWilliams continued.
Full video of this exchange is available here.
BACKGROUND:
Senator Cortez Masto has been a fierce advocate of the Community Reinvestment Act. In May, she grilled Comptroller of the Currency Joseph Otting about his office's unprecedented decision to publicly chastise critics of its proposed changes to the CRA. The senator has stressed the importance of ensuring changes to the CRA do not exacerbate the homeownership gap between white families and families of color.