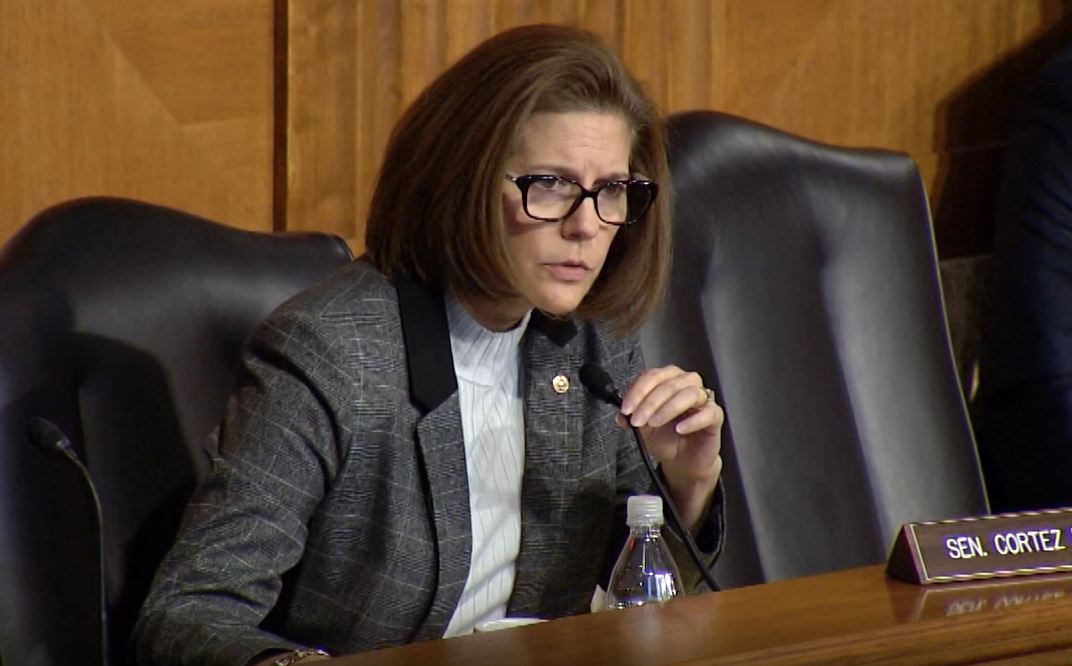 Washington, D.C. – In today's Senate Energy and Natural Resources Committee hearing on the nomination of Dan Brouillette to be Secretary of Energy, U.S. Senator Catherine Cortez Masto (D-Nev.) questioned the nominee on whether he will listen to the voices of Nevadans and respect the state's overwhelming opposition to Yucca Mountain. She also pressed him to reaffirm the Department of Energy's (DOE) commitment to the deal she secured with the Department to remove a half metric ton of weapons-grade plutonium from the state starting in 2021.
"As you well know, the Nevada National Security Site is integral to Nevada, and DOE plays a big role there," said the Senator. "I want to ask you a couple questions in relation to that site. The first one, obviously, is in regard to Yucca Mountain. Do you support the storage of spent nuclear fuel or high level radioactive waste at Yucca Mountain?"
Mr. Brouillette explained that he believed it was up to Congress to make a determination on whether to continue with the Yucca Mountain project. He stated that though he was obligated to follow the Nuclear Waste Policy Act, he wouldn't spend any money that hadn't been appropriated by Congress to pursue those policy directives. He continued, "I can give you the assurance as Secretary, that until Congress makes a decision on Yucca Mountain, nothing will happen at the Department of Energy."
"Under your watch, and that of the current Department of Energy Secretary Perry, DOE shipped a half metric ton of plutonium to the Nevada National Security Site from the Savannah River Site in South Carolina," the Senator continued. "Working through Secretary Perry, I secured an agreement with DOE, as codified in an April 24, 2019 letter, to begin removing the plutonium from the site in 2021. When we met this week, you assured me you were committed to honoring that agreement. Do you mind reaffirming that commitment today?"
Mr. Brouillette replied, "I do not mind at all Senator. I will you give you a firm commitment that we will honor that agreement."
Later in her questioning, the Senator stated that between Yucca Mountain, years of mislabeled waste being sent to state, and the recent secret plutonium shipments, Nevadans have little reason to trust the DOE and their nuclear program. "If confirmed," she asked, "what steps will you take to improve communication and trust with the State of Nevada?"
Mr. Brouillette responded by giving the Senator his personal commitment to work on these issues. "I will work diligently and apply the skill sets that I bring to the table to look at these types of processes within the Department of Energy and ensure they are robust, they follow the proper procedures and that they're all following the regulations that we are all guided by within the Department itself. Part of that is just mapping out things, and part of that is changing the culture of some of these organizations. I will give you my personal commitment that I will make every effort to do that," he concluded.
Full video of this exchange is available here.
###