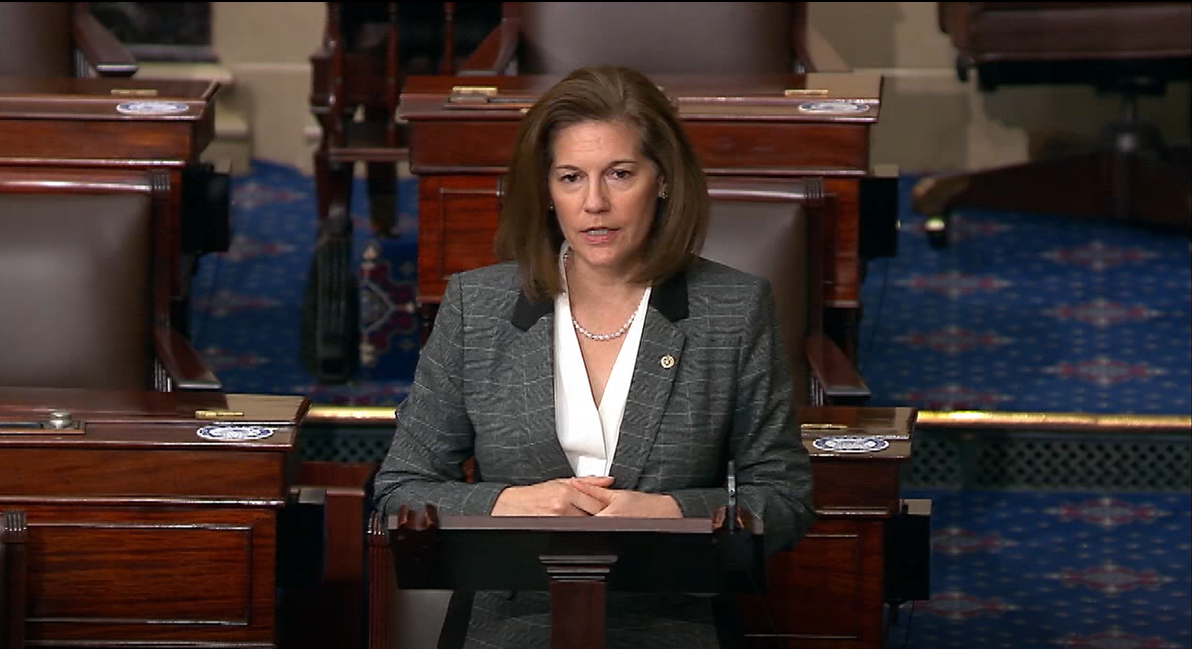 Washington, D.C. – U.S. Senator Catherine Cortez Masto (D-Nev.) spoke on the Senate floor today to highlight Nevada immigrant health heroes who are on the front lines of the coronavirus pandemic. In her remarks, the Senator addressed the importance of creating a path to citizenship for DACA recipients who are risking their lives to protect our communities during this health crisis.
Below are her remarks as prepared for delivery. Senator Cortez Masto's remarks are available in VIDEO FORMAT. You may download video of the speech HERE.
I rise today to tell you about Anna Ledesma, a DACA recipient and pediatric ICU nurse in Las Vegas.
Anna has been in the United States since she was 7 years old. She got interested in medicine because an aunt who was a nurse thought it would be the perfect career for her.
Her aunt was right. Anna loves biology and loves learning how disease processes work. But most of all, Anna loves her patients.
"I love connecting with them over Disney stuff," Anna will tell you. "I think I'm a good pediatric nurse because at heart, I'm still a kid too."
All across Nevada, immigrants like Anna are working on the front lines to help others in need during this health care crisis.
They are working as teachers for children learning from home.
They're staffing retirement homes taking care of at-risk seniors in the middle of a pandemic that targets our elders.
They're harvesting, shelving, and cooking food for all of us.
More than 200,000 DACA recipients in the United States are on the front lines of health care, education, agriculture, and other essential jobs.
There are almost 5,000 of them in Nevada alone, among the 12,000 Nevadan DACA recipients.
These are our friends and neighbors.
Yet this Administration continues to demonize them with anti-immigrant rhetoric and has turned their lives upside down by ending DACA.
These are the young professionals at risk if the Supreme Court upholds President Trump's decision to terminate DACA.
These young men and women have grown up in our communities—and they're giving back.
Even in the face of their uncertain futures, they're still showing up to work each shift, still demonstrating by their everyday heroism that they belong here.
Now more than ever, we need to understand that those who come to America in search of a better life don't diminish us—they enrich us.
You can see how cruel and twisted the immigration debate in this country has become if you just think about this:
In the middle of a worldwide health crisis, when they should be focused on keeping their patients alive and limiting their own exposure, the 27,000 DACA recipients in health care have to worry about their legal status.
Anna says that the health crisis her hospital is facing has almost managed to push out the fear that's always in the back of her mind about attacks on DACA—the attacks on her future.
Almost. Because it never fully disappears.
A few weeks ago, Anna was transferred to other parts of the hospital to help adult patients with COVID.
She told me about the utter isolation of these patients, who are fighting for their lives far from their loved ones.
She told me about former University Medical Center friends and colleagues, now in New York or Seattle, who are witnessing the same scenes.
Lately, the number of children suffering from COVID has increased, so Anna is back in the pediatric ICU, where patients are mostly asymptomatic.
With these healthier patients, it's easier to do what she does best: teach kids the things they need to know about a procedure or operation they're facing, distracting them or laughing with them.
We need to let her do her job. We must allow her to keep serving the only community she's ever known. We need to create a path to citizenship for people like Anna, and we need to give them all the tools we can to keep themselves—and the rest of us—healthy.
Anna's story is an American story—one of struggle, courage, and sacrifice for your community in order to build a brighter future for those who come after.
I'm going to keep fighting for people like Anna, and I hope my colleagues will do the same.
###