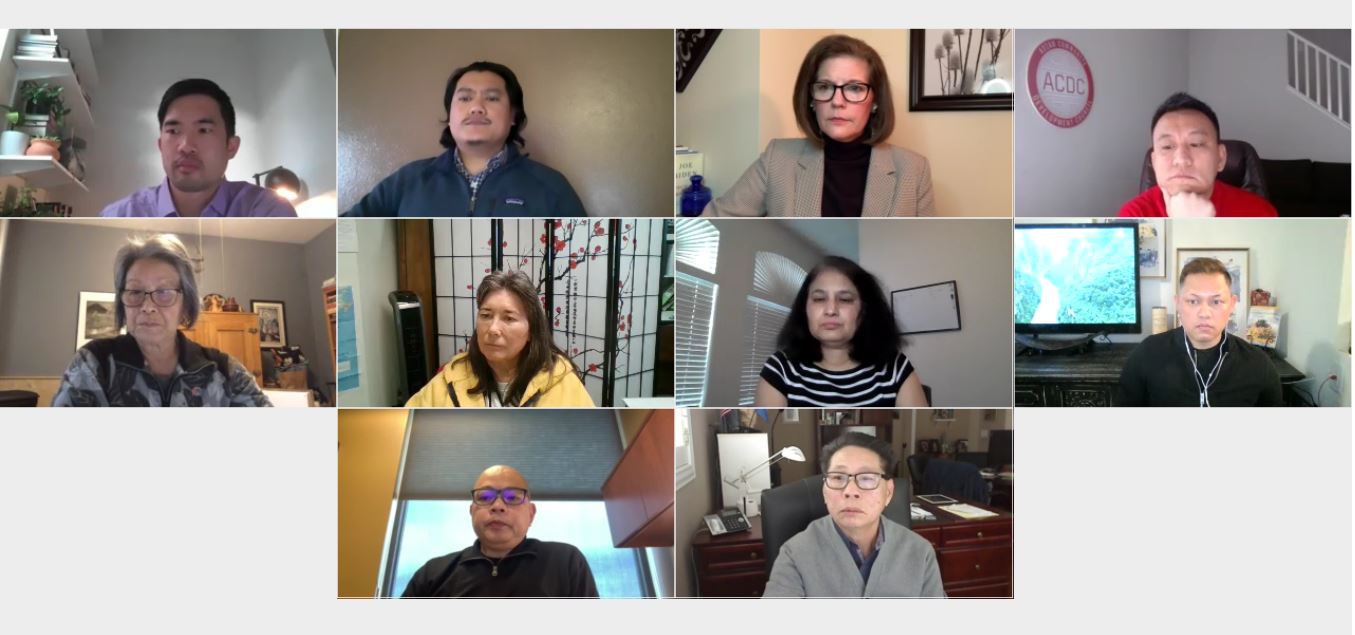 (Cortez Masto meets with AAPI leaders)
(Cortez Masto meets with Latino Leaders)
Washington, D.C. – U.S. Senator Catherine Cortez Masto (D-Nev.) hosted virtual meetings with Asian American and Pacific Islander (AAPI) and Latino community leaders from across the Silver State to hear directly from them about the needs of Nevada's communities during the COVID-19 pandemic and to provide an update on priorities for the 117th Congress.
"As we enter the 117th Congress, I have made it my priority to sit down with community leaders across the Silver State to hear about the issues most important to Nevada's communities. Latinos, Asian Americans, and Pacific Islanders are crucial to Nevada's identity and it is vital that we protect their health, safety, and economic welfare moving forward. It's clear from our conversations that Congress needs to do more to respond to the pressing issues Nevadans face today, from supporting health care professionals on the front lines of this pandemic and small business owners struggling to keep their doors open, to addressing the systemic racism and the health disparities in our communities. This includes working towards reforming a broken immigration system that has kept many individuals in the shadows throughout this pandemic. I look forward to working in the new Congress in Washington to find solutions that are inclusive and responsive to all of Nevada's communities."
BACKGROUND:
Senator Cortez Masto has consistently supported bipartisan legislation that would provide comprehensive relief for Nevada's struggling economy and communities. Most recently, the Senator worked across the aisle to include a provision in the coronavirus relief package that allows mixed-status families to be eligible for COVID-19 direct economic impact payments. The Senator has sponsored and cosponsored the following bills to provide economic support to many of Nevada's communities of color:
The Hospitality and Commerce Job Recovery Act of 2020, legislation that would provide comprehensive relief and recovery measures for the convention, trade show, entertainment, travel and hospitality industries and their workers, many of whom are part of the immigrant community. Provisions of this bill were included in the most recent COVID-19 relief package.
The Coronavirus Immigrant Families Protection Act, legislation that would ensure that all communities have access to COVID-19 testing, public health information, and relief benefits regardless of immigration status or limited English proficiency.
In December, Senator Cortez Masto introduced her landmark immigration bill, the Fairness for Immigrant Families Act, aimed at updating important parts of our immigration system. The bill would eliminate the policies responsible for separating families, remove barriers for long-term immigrants to become lawful permanent residents, and more.
The Senator is also looking forward to meeting this week with Katherine Tai, the nominee for U.S. Trade Representative and the first woman of color and first Asian American to be nominated for the role of top U.S. trade negotiator, and Xavier Becerra, the nominee for Secretary of the Department of Health and Human Services and the first Latino to be nominated for the position.
###