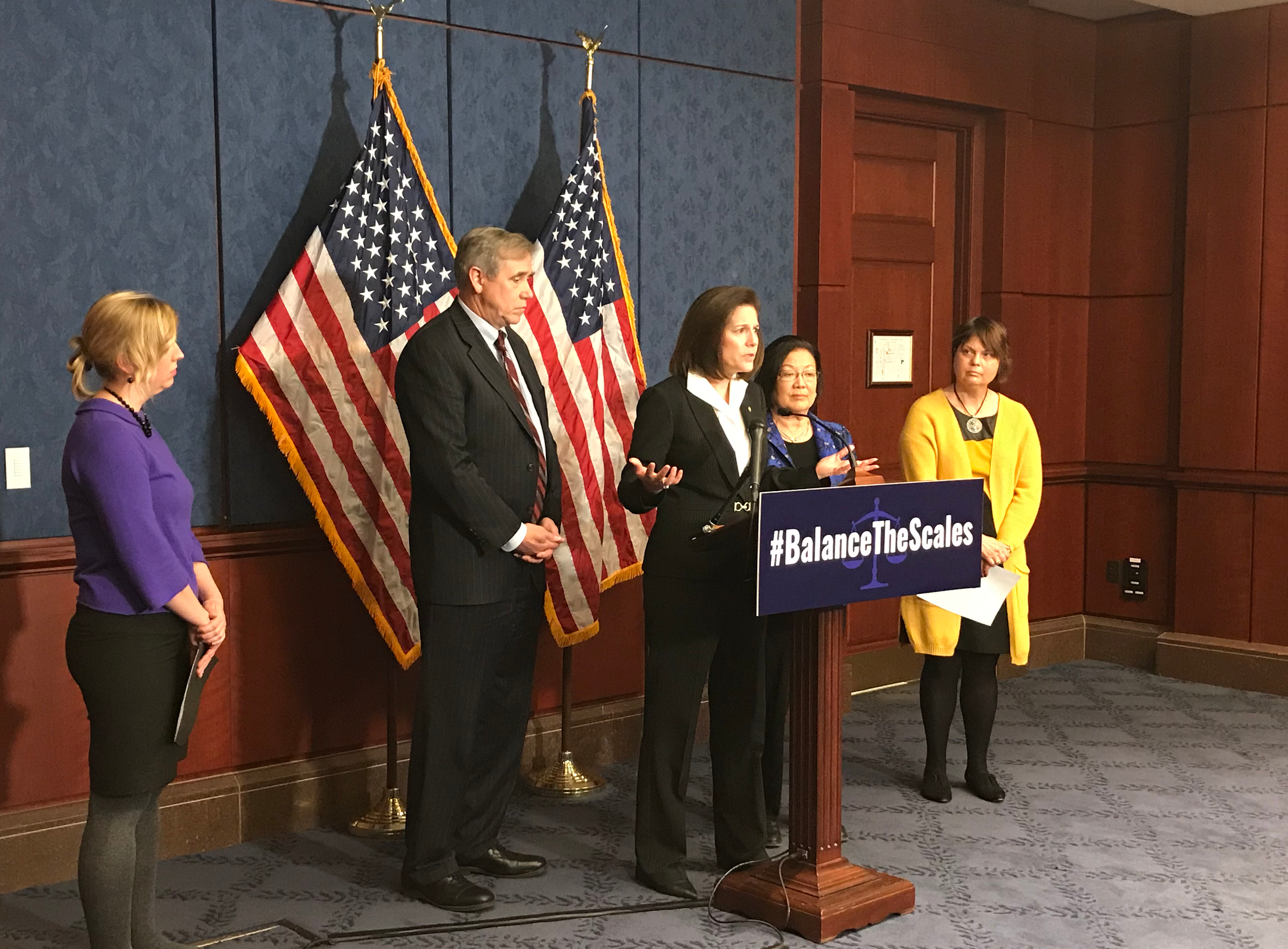 Washington, D.C. – U.S. Senator Catherine Cortez Masto (D-Nev.) today joined Senators Mazie K. Hirono (D-Hawaii) and Jeffrey A. Merkley (D-Ore.) at a press conference announcing the introduction of three pieces of legislation that protect the rights of families and children fleeing violence and ensures they are treated humanely and fairly once in the United States.
Senator Cortez Masto joined her colleagues in introducing the Child Trafficking Victims Protection and Welfare Act, which expands protections for vulnerable children in the custody of Customs and Border Protection (CBP), the Fair Day in Court for Kids Act, which would require the government to provide legal counsel to unaccompanied children, and the Immigration Court Improvement Act, which would insulate immigration judges from improper interference or manipulation.
"Children and families at the Southern border are currently facing unsafe conditions, a lack of representation, and an immigration system that undermines the independence and effectiveness of immigration judges across the country. These bills are a first step in ensuring that these children receive appropriate care while in the custody of Customs and Border Protection (CBP) and are guaranteed representation when seeking asylum. Our legislation will also ensure that migrants, both children and adults, have access to a fair immigration hearing, free from political interference.
"Our nation has a long history of welcoming immigrants and providing refuge to those in need. We can't turn our backs on children and families fleeing poverty, hunger and gang violence, and I'm proud to stand with my colleagues to demand humane and dignified treatment for those fleeing to protect their families."
BACKGROUND:
The Child Trafficking Victims Protection and Welfare Act establishes a number of essential requirements for the care of children in CBP custody, including a climate-appropriate environment, safe and sanitary living conditions, a bed and sufficient linens, adequate and healthy nutrition, potable water, and access to legal services. Additionally, the legislation requires CBP to consult with experts in child welfare, development, and health; develop guidelines for the treatment of children in its custody; and require licensed child welfare professionals to be available at certain ports of entry or Border Patrol stations.
The Fair Day in Court for Kids Act addresses the surge of unaccompanied children coming to the United States after fleeing violence in their countries of origin, and ensures that they get legal representation while seeking asylum in the U.S. Children who do not receive assistance from legal counsel are more likely to be deported and return to dangerous conditions.
The Immigration Court Improvement Act ensures that immigration judges can remain fair and impartial by improving the efficiency of immigration courts and insulating judges from improper political interference or manipulation. This bill would insulate immigration judges from discipline for any good faith legal decisions that they make in the course of hearing and deciding cases. It also clarifies that any system of completion goals, like quota systems, may not be used in a way that limits the independent authority of immigration judges.
###