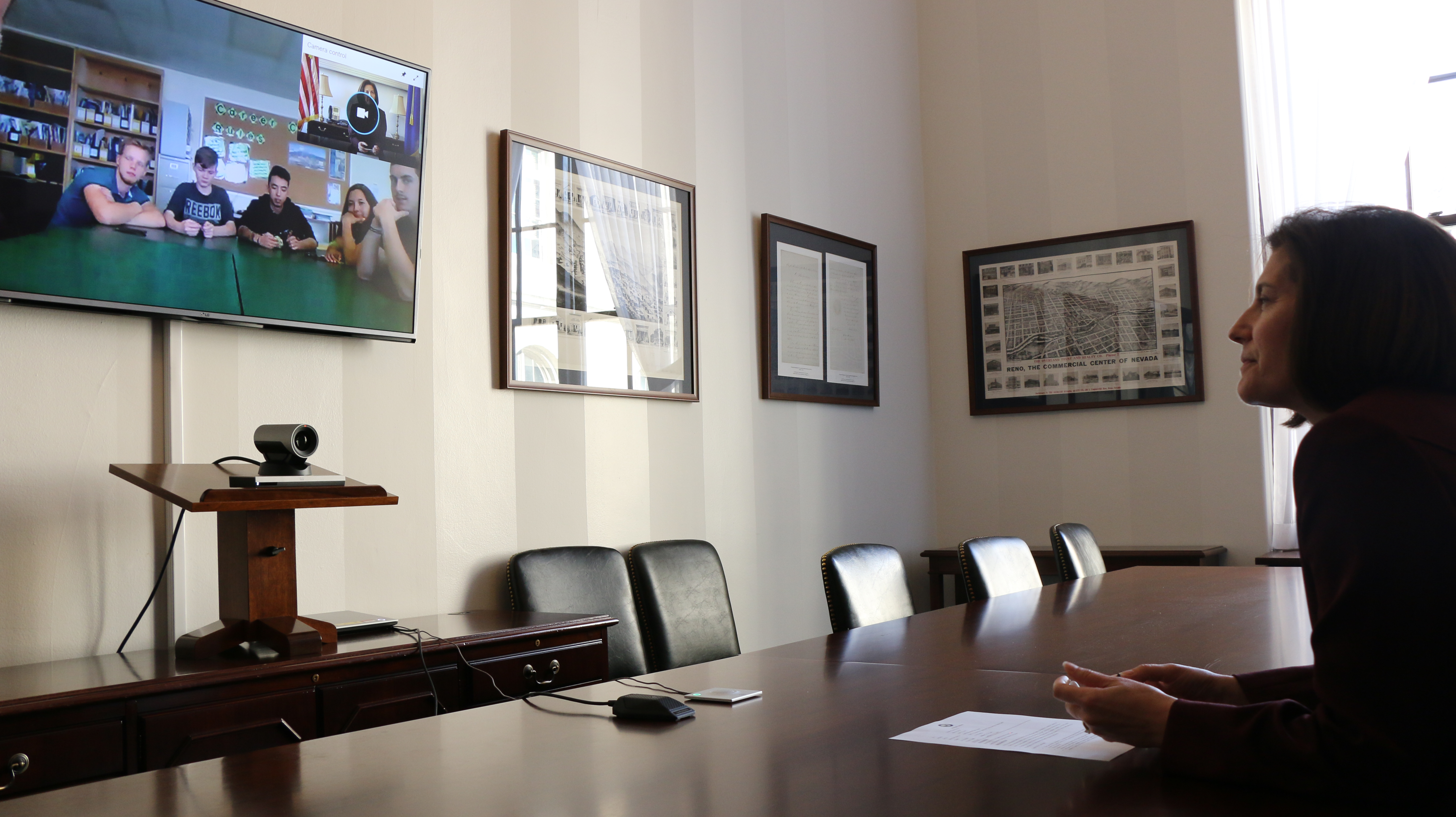 Senator Cortez Masto talks to Battle Mountain High School Students from her Washington, D.C. Office
Washington, D.C. – U.S. Senator Catherine Cortez Masto (D-Nev.) hosted two video conference conversations with Nevada high school students this week. The Senator spoke to students from Battle Mountain High School about their experience competing in the Capitol Hill Challenge – Stock Market Game, a game she sponsored the high school for, that teaches students how to invest in the stock market and the importance of financial literacy. Senator Cortez Masto also held a conversation with a government class from Carlin Combined High School where she talked about her efforts to bring broadband internet access to rural communities and underserved urban areas, her work on behalf of the State of Nevada in the United States Senate and the importance of being engaged in government.
"I am proud that students across the state of Nevada are taking an active role in their government and understanding the importance of civic engagement. Both Battle Mountain High and Carlin Combined High schools are full of bright young students who are eager to expand their horizons and play an active role in government and business. These students are leaders engaging on important topics for our state, and our nation. I am glad that technology enables me to stay connected to Nevadans during my workweek in Washington. And I am proud to continue to lead the charge in Congress to expand access to technologies that bring communities closer together, including rural broadband. Our young people are our future, and we must continue to invest in our schools, especially those in rural communities, to ensure that all students have the technology and funding they need to thrive."
BACKGROUND
The Capitol Hill Challenge matches Members of Congress with students, teachers and schools in their state who are competing in The Stock Market Game. The Stock Market Game is a competition between students from all 50 states (as well as Guam, Puerto Rico, and DC as of this year) where student teams manage a hypothetical $100,000 online portfolio over 14 weeks. The 10 winning teams are rewarded with a trip to Washington D.C. This year marks the 15th annual Stock Market Game Capitol Hill Challenge (CHC), which allows students to learn about fiscal policy and the economy through a hands-on educational tool.
###