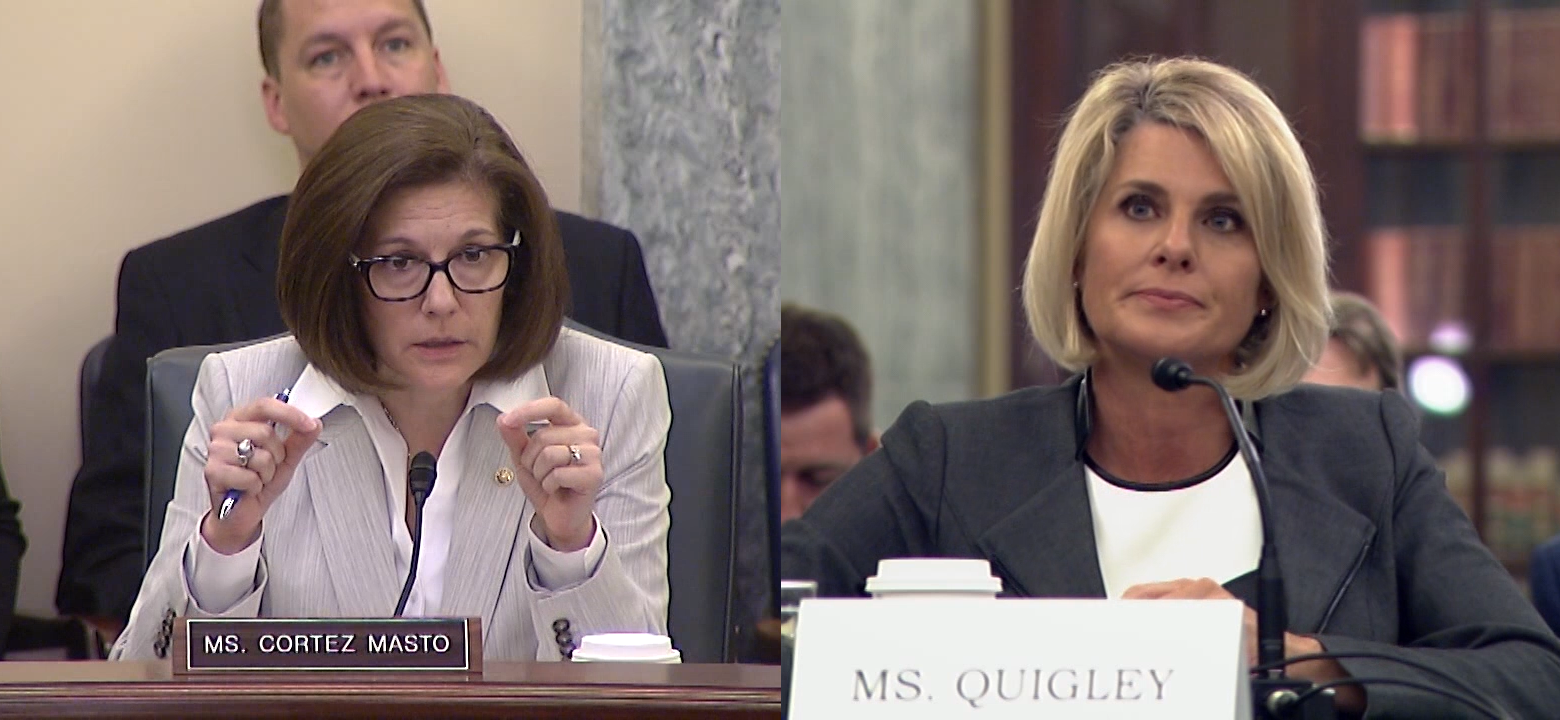 Washington, D.C. – U.S. Senator Catherine Cortez Masto (D-Nev.) welcomed Regional Transportation Commission (RTC) of Southern Nevada General Manager Tina Quigley as a witness during a hearing of the U.S. Senate Committee on Commerce, Science & Transportation entitled, "Transportation of Tomorrow: Emerging Technologies That Will Move America." Quigley was invited by Cortez Masto to testify at the hearing, where she discussed innovation and technological development in Nevada, and other topics related to public transportation, autonomous vehicles, drones, and smart communities. Senator Cortez Masto has been a leader in this space and has introduced her Innovation State Initiative, a series of bills that support, strengthen, and promote Nevada's leadership in technology.
In her opening remarks, Cortez Masto touted Nevada's leadership in innovative transportation solutions and emerging technologies: "Nevada is an 'Innovation State' where the state Department of Transportation has worked to license the nation's first autonomous semi-truck, where the City of Reno is a designee in the FAA's new UAS Integration Pilot Program, having just announced their recent first multi-drone delivery of automated external defibrillators in the presence of the FAA. And it's other innovations in transit like our Washoe County Regional Transportation Commission which is pursuing a full range of electric buses."
Cortez Masto continued, "All of this plays into to what I have been advocating here in the Senate for most of my tenure here, including my bipartisan Moving FIRST Act with Senators Burr and Nelson, incentivizing the use of emerging technologies to develop smart communities and intelligent transportation systems which can improve safety and efficiency, reduce costs, cut down on pollution, help us reach disadvantaged populations, and much more. This is something that is happening around the country and the world, and I believe we should think of it as a global race… And in Nevada, we are helping to lead the way on all of these technologies."
On the transformation of Nevada cities into smart communities Cortez Masto asked RTC of Southern Nevada General Manager Tina Quigley, "Can you further elaborate or describe the specific local challenges that you're addressing with your efforts to employ smart transportation solutions?"
"Safety, congestion, capacity, and limited resources to enhance those are our challenges. Testing, deploying these new technologies is a way for us to enhance capacity, reduce congestion and increase safety without having to build additional infrastructure, additional lane miles or having additional right of way takings, et cetera," Quigley responded.
On the importance of public-private partnerships in deploying emerging technologies, Cortez Masto asked, "You talked a little bit about the public-private partnerships, which I'm a big proponent of, but each day is unique in how that relationship should look. Can you talk a little bit about that for the state of Nevada and your involvement in a public-private partnership as you employ the emerging technology?
"As we're emerging these new technologies, most of them are in the pilot program or the demonstration phases, so we can vet them through and one of the advantages of having a pilot program or a demonstration program is that you can work around your existing – sometimes stymying – procurement processes. And it's only after you've vetted and you've tested that then you could move forward with the more formal procurement processes," Quigley responded.
###