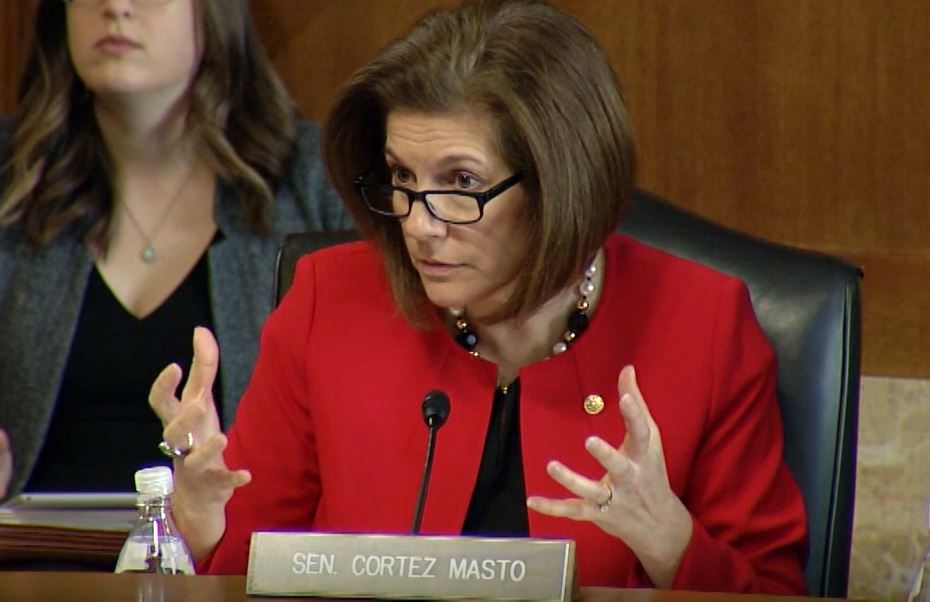 Washington, D.C. – In today's Senate Energy and Natural Resources Subcommittee on Water and Power Hearing U.S. Senator Catherine Cortez Masto (D-Nev.) spoke with panelist Julie Regan, Chief of External Affairs & Deputy Director of the Tahoe Regional Planning Agency, about the importance of a comprehensive, collaborative and science-based approach to protect Lake Tahoe and other water resources in Nevada from the threat of climate change and invasive species.
In her introduction, Senator Cortez Masto highlighted the success of the 2016 Lake Tahoe Restoration Act, which dedicated money to improve Lake Tahoe's water quality and invest in smart preventative technology to keep invasive species from entering the lake. She also congratulated the Tahoe Regional Planning Agency (TRPA) on their collaborative efforts to protect the lake's fragile ecosystem and improve environmental protection measures.
"Can you talk a little bit about how the Tahoe Regional Planning Agency collaborates and coordinates with stakeholder's to address invasive species? Not just at the federal level, but with the private sector," asked Senator Cortez Masto.
Ms. Regan replied that the TRPA engages in what she calls "epic collaboration". "There is collaboration, and then there is epic collaboration," she said. "We go the extra mile. As a regional convener, our agency has the opportunity to bring this very wide partnership together. There are about ten federal agencies that operate in Lake Tahoe, two states, multiple jurisdictions, the private sector, and on and on…We [also] really rely on science in this collaborative effort [to] best attack the problem of invasive species."
Ms. Regan also spoke about the TRPA's efforts to combat climate change around Lake Tahoe through innovative new data and technology programs, including a data sharing program across multiple western states to help identify potential threats to the water supply, including invasive species.
"The cost of doing nothing puts our whole economy at risk," Ms. Regan said in her closing statement.
Video of Senator Cortez Masto's questions to Julie Regan from the Tahoe Regional Planning Association is available here. Video of the full hearing is available here.
###