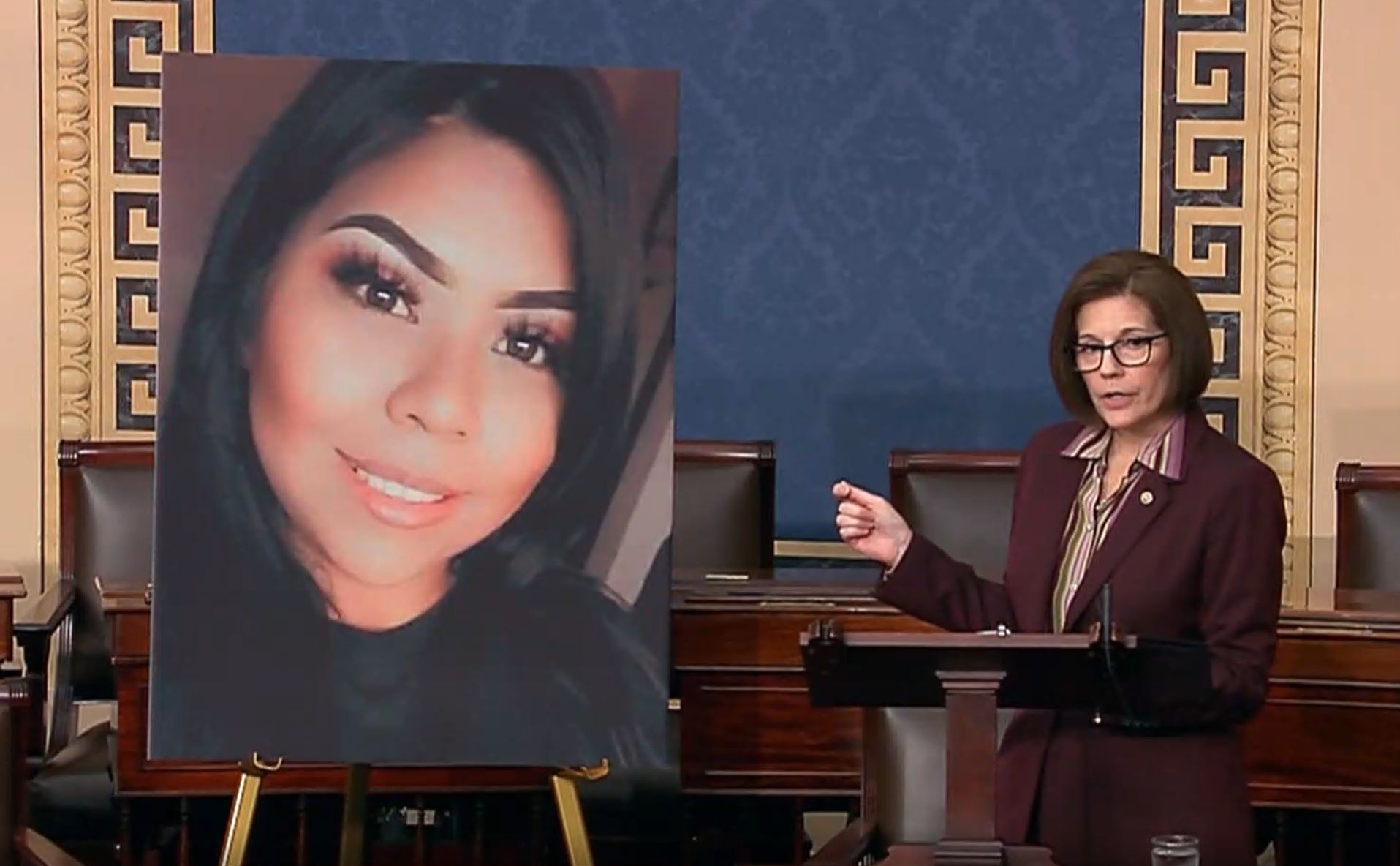 Washington, D.C. – Today, U.S. Senator Catherine Cortez Masto (D-Nev.) spoke on the Senate floor to highlight the ongoing crisis of missing and murdered Indigenous women (MMIW) and applaud the administration for answering her call to do more to implement legislation she secured to help address the epidemic of violence against Native people. This afternoon, the Departments of Interior and Justice named members to the commission required by Senator Cortez Masto's Not Invisible Act.
During the speech, Senator Cortez Masto highlighted the case of Anna Marie Scott, who was found murdered outside of Reno on February 3rd. Anna was the mother of two young children and a member of the Pyramid Lake Paiute Tribe, and joins a long and tragic list of Native women who have gone missing or been murdered, leaving families desperately waiting for answers.
Senator Cortez Masto is one of the strongest champions for Native Americans in the Senate, and she has led bipartisan efforts with Senator Lisa Murkowski (R-Alaska) to protect Native communities. The Not Invisible Act creates a point person in the Bureau of Indian Affairs to improve coordination of violent crime prevention across federal agencies and establishes the commission that DOI and DOJ continue to work to assemble, comprised of law enforcement, tribal leaders, federal partners, service providers, and survivors, who will ensure that the Departments work together to protect Native women and to address the epidemic of missing persons, murder, and trafficking of American Indians and Alaska Natives. Savanna's Act, named in honor of Savanna LaFontaine-Greywind, requires federal law enforcement to create standard guidelines on responding to these crimes and increase data collection on them.
Below are her remarks as prepared for delivery:
On February 3rd of this year, at 4:00 in the morning outside of Reno, callers told police that there was a car on fire on the shoulder of the interstate. Inside, officers found the body of a 23-year-old woman named Anna Marie Scott, murdered by an unknown assailant. This is Anna.
Anna was a beloved daughter and sister, and a devoted mom to two young children. She was also a member of the Pyramid Lake Paiute Tribe, and she joins a long and tragic list of Native women who have gone missing or been murdered, leaving families desperately waiting for answers.
Families like Anna's will tell you that one of the worst things about a tragedy like this is that they never had the chance to say goodbye to their loved one. Another is knowing that decade after decade, the United States has not done enough to protect Native women, leaving families all over Indian Country searching for answers.
A National Institutes of Justice study found that an unbelievable 84 percent of Native women experience violence in their lifetimes, along with 81 percent of men. It also reported that Native women are almost twice as likely as white women to have been the target of violence in the past year. These numbers confirm what Native communities have known for years: Native people are vulnerable, and they can be taken from their families at any time.
In 2020, I secured passage of two bipartisan bills with Senator Murkowski—a tireless advocate for Native communities—to finally create a national strategy to address the crisis of missing, murdered, and trafficked Indigenous women and girls.
The Not Invisible Act instructs the Bureau of Indian Affairs to coordinate federal efforts to address the epidemic of violence in Native American communities.
It also mandates a commission made up of tribal, state, and local law enforcement; service providers; representatives of federal agencies; tribal leaders, and survivors and family members.
Savanna's Act requires the creation of guidelines for law enforcement on how best to keep Native women safe. And it improves reporting of violent crimes against Native people and strengthens tribal access to federal crime databases.
These two laws create powerful tools that will help curb violence against Native people. But they cannot fulfill that mission if they are not implemented by the executive branch. And to date, the administration has missed too many deadlines mandated by statute for putting the legislation into effect. That's why this week I sent a letter with Senators Tester and Murkowski to the administration urging them to implement key provisions of our bipartisan bills.
I am thrilled to share that today, Secretary Haaland announced the members of the Not Invisible commission, which can now begin its work. This is excellent news, and I appreciate this and other important steps the administration has taken to address the problem.
But there is still more we need to be doing to implement the policies Congress has passed that will make a difference on the ground. That includes issuing federal guidelines to help local law enforcement with best practices to protect Native communities and implementing the data collection needed to address the crisis. The work must continue, because families continue to wait.
Just as I've called on this administration to do more, I'm committed to doing more myself. My office is working to reintroduce legislation I cosponsored with Senators Udall, Tester, and Murkowski last Congress to improve coordination and data-sharing between tribal and federal law enforcement.
My Congressional colleagues and I have this year once again introduced a resolution recognizing May 5 as a day of awareness for the crisis of missing and murdered Native women and girls. But let's be clear: a day of awareness is for those who don't know about the problem. Indigenous families in Nevada and across the country are only too conscious of the risks their sisters, brothers, cousins, and children face. And they are looking to Congress and to this administration for concrete progress in the long wait for justice. I'll keep fighting for that, and for Anna.
###