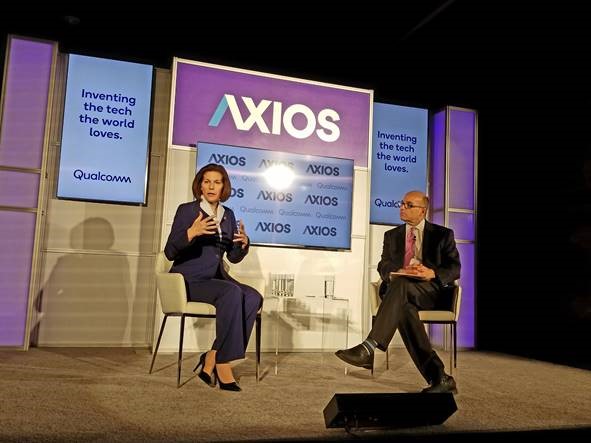 (Senator Catherine Cortez Masto participates in a discussion with Axios' Mike Allen on Smart Cities & 5G)
Washington, D.C. – Senator Catherine Cortez Masto (D-Nev.) joined Axios' Mike Allen this morning to discuss her "Innovation State" initiative. In her conversation, the Senator highlighted the innovative work happening throughout the state of Nevada, including by the state DOT and Washoe and Southern Nevada RTC's, talked about the autonomous shuttle in Las Vegas, highlighted the federal government's role in fostering a 21st century economy and stressed the importance of ensuring underserved communities are central to the conversation and that workforce training is a main component in a sustainable transition to SMART Communities.
"It was a privilege to join Mike Allen today to highlight all of the innovative work happening in Nevada to create communities of the future, improve our daily lives and create jobs" said Cortez Masto. "In my conversation today, I had the opportunity to share with policymakers, tech leaders and interested citizens the story of Nevada as a leader in technology while highlighting my Innovation State initiative. From the amazing work spearheaded by Tina Quigley and the Southern Nevada Regional Transportation Commission at the Traffic Management Center, to the revolutionary work of startups like the drone delivery company Flirtey, Nevada leads in the nation in developing the technologies that will move us forward. One crucial piece of the conversation that must continue to be elevated is how we responsibly and sustainably ensure that we bring everyone along with us in this new economy. That's why I am continuing to prioritize federal investment in broadband for underserved areas in rural and urban communities and also making sure that we have the workforce education and training programs in place to help build that workforce right here in America. I'm committed to ensuring that when we talk about smart technology, we are also talking about safety. I am taking the voices, optimism and cutting edge leadership of Nevada to Washington, D.C. and the Halls of Congress."
BACKGROUND:
As part of her Innovation State Initiative, Senator Cortez Masto has introduced and sponsored four critical pieces of legislation in Congress to strengthen Nevada's pioneering leadership in technology.
Moving FIRST Act – Moving and Fostering Innovation to Revolutionize Smart Transportation (FIRST) Act
The Moving FIRST Act is co-sponsored by Senator Burr (R-N.C.) and Commerce Ranking Member Bill Nelson. This legislation creates a competitive Smart Communities Grant Challenge to provide yearly grants totaling $100 million to four awardees in large and medium cities as well as rural communities and regional partnerships and also makes smart community applications eligible for additional USDOT grants.
Safe DRONE Act – Safe Development, Research, and Opportunities Needed for Entrepreneurship (DRONE) Act
Senator Cortez Masto is a lead co-sponsor of Senator Warner's bill with Senators Hoeven (R-N.D.) and Heller (R-Nev.). This legislation advances the safe integration of Unmanned Aircraft Systems (UAS). This includes reinstating a drone registration, developing a trained UAS workforce though community and technical colleges, extending the UAS test sites in Nevada, and outlining a formal regulatory strategy for the Unmanned Aircraft System Traffic Management (UTM).
Senator Cortez Masto's bill with Senator Moore Capito (R-W.V.) creates two National Science Foundation (NSF) grant programs to encourage young girls to pursue computer science. It also provides grants to understand what motivates young girls to pursue STEM, or STEAM education. This legislation also offers funding for creating and testing scalable programs that can help develop and promote STEM and STEAM education in classrooms.
SPEED Act – Streamlining Permitting to Enable Efficient Deployment of Broadband Infrastructure Act of 2017
Senator Cortez Masto is a lead co-sponsor of this bill with Senator Wicker (R-Miss.). This legislation eliminates regulatory roadblocks to telecom infrastructure deployment by creating limited exemptions from environmental and historical reviews by the FCC for communications infrastructure if sites already have undergone a review within the established public right-of-way.