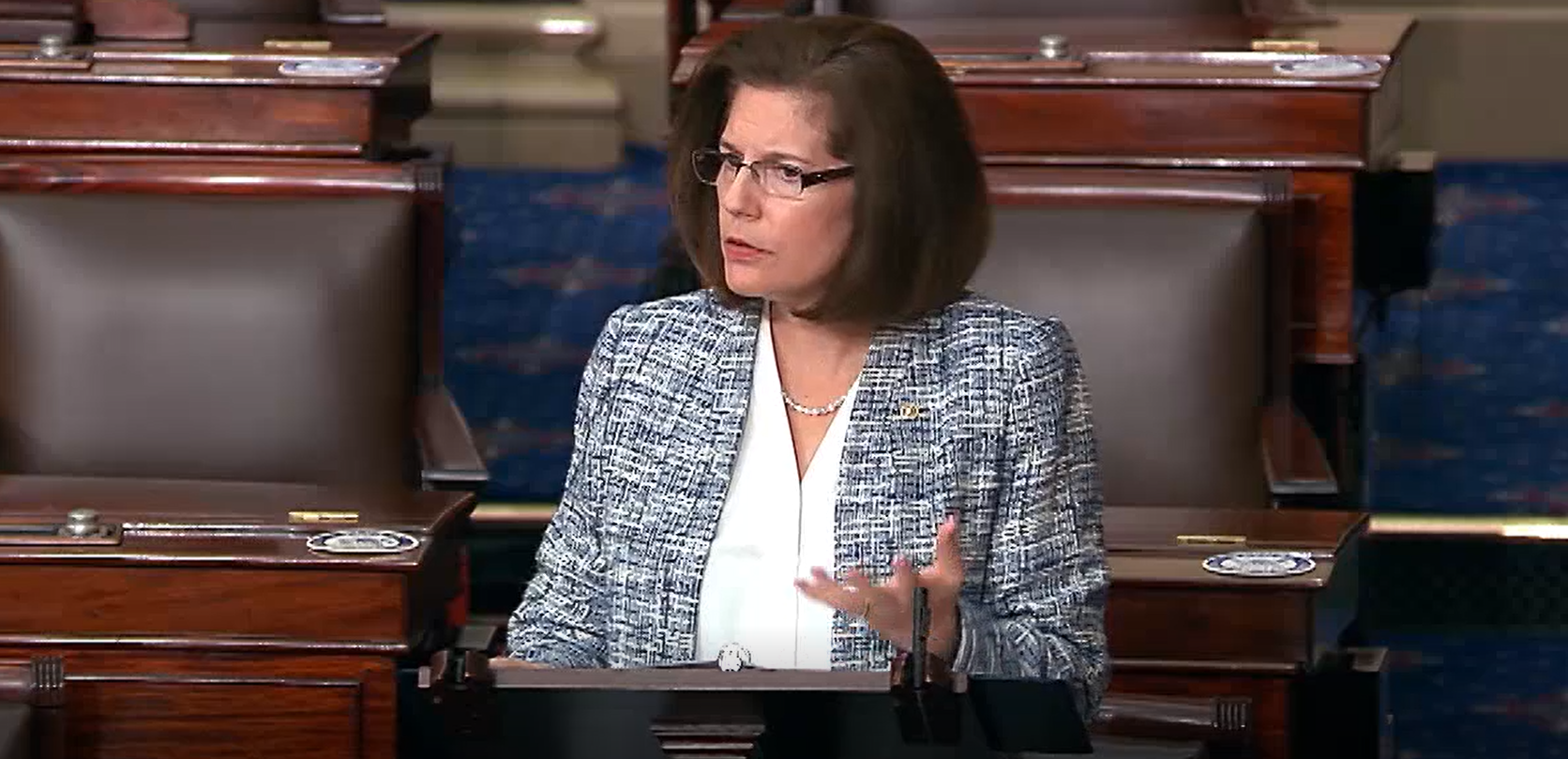 Washington, D.C. – U.S. Senator Catherine Cortez Masto (D-Nev.) spoke on the Senate floor today in order to honor the service and sacrifice of the American armed forces and highlight President Trump's history of concerning comments about the military.
BACKGROUND:
Senator Cortez Masto has joined Senator Tammy Duckworth (D-Ill.) in a resolution to honor the service and sacrifice of members of the United States Armed Forces and veterans and condemn any comments by President Donald Trump that devalue military service, prisoners of war, and Gold Star families.
Senator Cortez Masto's remarks are available in VIDEO FORMAT. Below are her remarks as prepared for delivery:
In 2018, in Minden, Nevada, I had the honor of commemorating the opening of the Moving Wall—a replica of the Vietnam War Memorial that travels the country so the public can pay their respects to Vietnam veterans.
I will always remember the stories that veterans and their families shared with me that day—stories of coming home from a divisive war to an equally divided public. The pain of that reception was still fresh for many of them decades later.
America's service members make an implicit pact with their country. They agree to put their lives on the line—and in exchange, they deserve our support, our care for them and their families, and our respect.
Last week, the Atlantic magazine published a story in which anonymous sources claimed that Donald Trump doesn't demonstrate that respect. The article described a Commander-in-Chief who calls his own country's fallen soldiers "losers" and "suckers."
The story fits a pattern from other anonymous sources over the years, some of whom described the President lashing out at generals and calling them "dopes" and "babies." Now granted these are from anonymous sources. So let's set them aside for just a moment. As the saying goes, journalism is the rough draft of history, and sometimes that rough draft gets things wrong.
What we do know—from the president's public statements—is that Donald Trump does not understand the sacrifice and heroism that America's armed forces demonstrate on a daily basis. And that makes him unfit to lead them.
How can a Commander-in-Chief make life and death decisions for our troops when he doesn't understand the very nature of the sacrifice he is asking?
I'm not making up Donald Trump's refusal to understand military sacrifice. You just have to look at the record.
It's part of the public record that in 1968, Donald Trump avoided military service through a medical deferment. Yet although Donald Trump did not serve in the military, he's felt free to criticize others who have—and their families.
In 2015, then-candidate Donald Trump said that John McCain—and I quote—was "not a war hero. . . . I like people who weren't captured."
He's talking about a man who endured torture during the five years he spent as a prisoner. A man who upheld the highest standards of our military by turning down the release that his captors offered him in order to stay with his fellow POWs. A man who refused to denounce his country, even when his captors informed him it could earn him his freedom.
This President clearly has no conception of that integrity and that sacrifice.
A president who refuses to honor men and women who were captured doesn't understand what heroism is.
In 2016, as the Republican nominee for President, Donald Trump attacked the family of Captain Humayan Khan, who was killed in Iraq trying to stop a suicide bomber. For his brave and self-sacrificing actions that day, Captain Khan received a Bronze Star and Purple Heart.
Accompanied by his wife, Mr. Khan spoke about his son's sacrifice at the Democratic National Convention, and in response, Donald Trump said "if you look at his wife, she was standing there. She had nothing to say. She probably, maybe she wasn't allowed to have anything to say."
Can you imagine criticizing a mother for not being able to articulate the pain of losing her son?
A president who mocks a military family's pain doesn't understand what selflessness is.
And just this Monday, Donald Trump said, and again I quote, that "The top people in the Pentagon . . . want to do nothing but fight wars so that all of those wonderful companies that make the bombs . . . stay happy."
A president who attacks America's generals as valuing profits over the men and women they command doesn't understand what leadership is.
And because, even after three years as Commander-in-Chief, Donald Trump can't understand or appreciate the commitment and sacrifice of America's service members, he cannot effectively lead them.
At the end of the day, Donald Trump does not understand the very purpose of our military. He seems to believe that the military is his personal police force. He doesn't get that the allegiance our armed forces swear is to the American nation, its people, and its Constitution.
We saw this when in June President Trump threatened to use the Insurrection Act to send active-duty troops to police the streets of this country.
I was in Washington the day that this administration ordered police on horseback, armed with tear gas and concussion grenades, to disperse protestors who were peacefully demonstrating against police violence—and all so Donald Trump could stage a photo opportunity in front of a church with a Bible.
That same night, I could hear the noise overhead from the National Guard Black Hawk helicopters that engaged in a show-of-force display on the streets of Washington.
M. President, I come from a family of service members. My father was stationed in Korea after the war. My grandfathers both served in the U.S. Army, and my great-uncle was on the beach at Normandy.
My father-in-law piloted LCM-3s in Korea for the Army, and I keep on the shelf in my Senate office a photo he took of the Korean War Memorial in winter. That stark image—of troops in the snow moving cautiously through danger—is a reminder to me of the humanity and sacrifice of our service members, including my father and father-in-law.
And each year when I celebrate the induction of new Nevadans to the service academies, I see the next generation devoting their idealism and their courage to our country—and I consider the weighty sacrifice by people who are so very young.
You know, after reading the stories in the news and reflecting on the history of comments from our current Commander-in-Chief, I want to say one simple thing to veterans and service members in Nevada and throughout the country:
Thank you.
To the National Guard members serving throughout the country during this pandemic, thank you. We value and honor your service and sacrifice.
I will always stand with American troops who put their lives and bodies on the line to protect our country. And the American people deserve a Commander-in-Chief who will do the same.
###