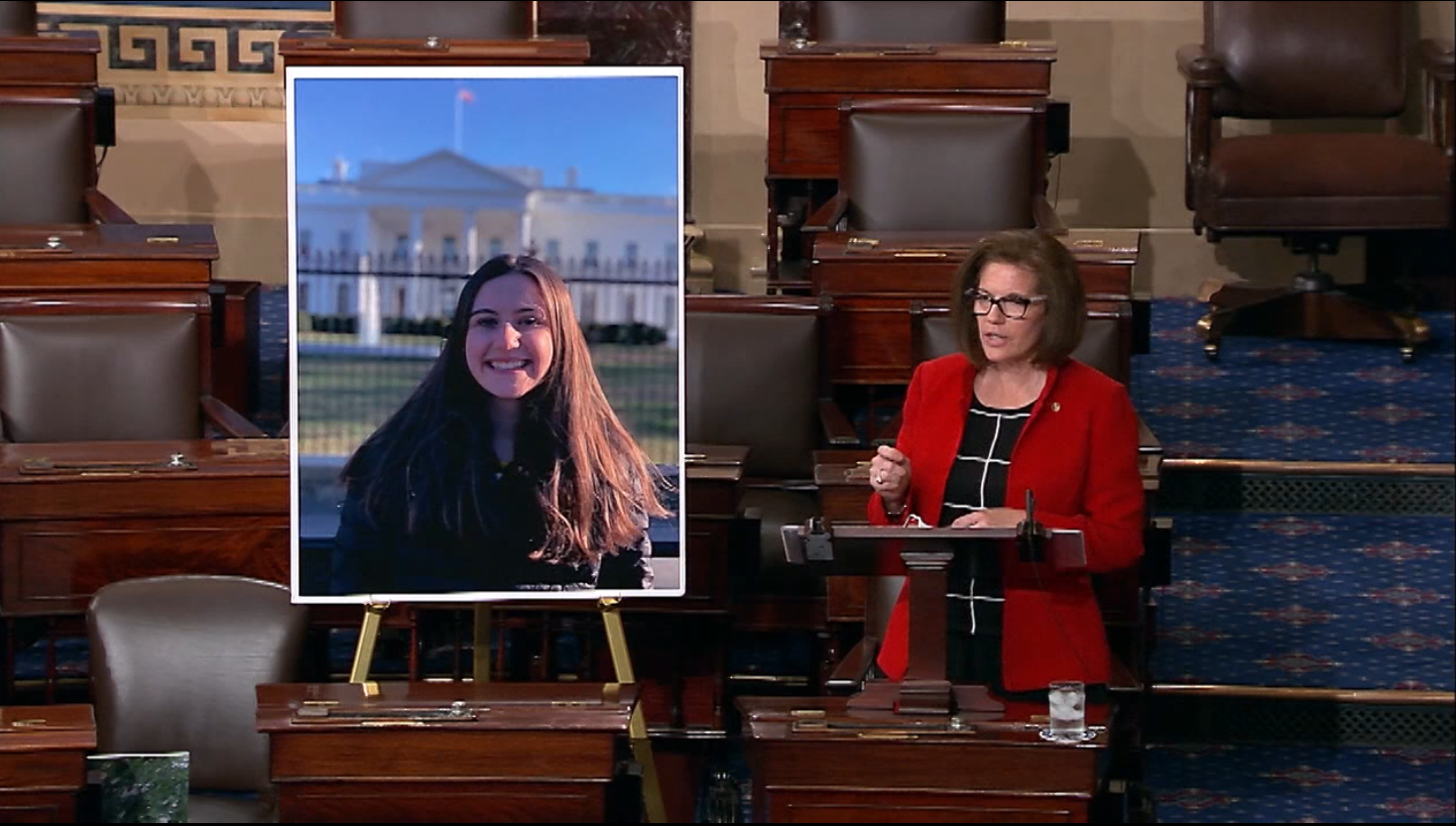 Washington, D.C. – U.S. Senator Catherine Cortez Masto (D-Nev.) delivered remarks on the Senate floor highlighting the stories of Nevadans who would lose their health care and pre-existing conditions protections if President Trump and 18 Republican Attorneys General and Governors win their lawsuit challenging the Affordable Care Act. The Senator's remarks come on the first day of oral arguments in Texas v. United States in the Fifth Circuit Court of Appeals.
Senator Cortez Masto's remarks are available in both AUDIO AND VIDEO FORMAT. You may download video of the speech HERE and audio HERE.
Below are her remarks as prepared for delivery.
I want to talk today about Kyle Bailey, from Sparks, Nevada. Kyle is 27 years old, and he's an amazing success story.
Kyle was born with cystic fibrosis, a progressive, genetic condition that affects the lungs and digestive system, making it hard to breathe normally or absorb nutrients.
Cystic fibrosis has no cure, so patients like Kyle spend hours every day on treatments to keep themselves as healthy as possible.
With good medical care and lifesaving medications, he has been able to live a full life, creating music and artwork. He is engaged to be married.
Yet Kyle still lives in fear. He's scared that he'll lose his health insurance and coverage for the treatments that keep him alive.
And that could happen if the Republican Party succeeds in its latest attempt to use the courts to attack the Affordable Care Act and its protections for preexisting conditions.
Just this week in Texas, a federal appeals court is hearing yet more arguments about whether the ACA is constitutional.
On one side are patients like Kyle.
On the other side are 18 Republican state Attorneys General and the Trump Administration, who all want the court to strike down the ACA.
We've seen this all before.
The Republicans have tried to defeat the ACA in Congress and in the courts over 100 times.
And each time, they have failed, because American people have raised their voices to say, "Stop this. We need health care coverage."
But just because the ACA survived those attacks doesn't mean it's safe. And that's especially scary for those who gained coverage and peace of mind thanks to the ACA's strong safeguards for patients.
One of the most important parts of the ACA is its guaranteed protections for people with preexisting conditions.
Insurers used to be able to discriminate against people because of their medical history.
They would weed out people who were born with genetic conditions, like Kyle, or people who had gotten seriously ill, like Ivy Batmale from Incline Village.
At 5 years old, Ivy was diagnosed with acute lymphoblastic leukemia, one of the most common childhood cancers.
Ivy beat leukemia, but the years of harsh therapy triggered a reaction that affected her legs.
Ivy was told she would never walk again. She spent years in wheelchairs, undergoing surgery and other treatments.
With costly therapies, Ivy got better. This spring, she and her family marched into breakfast with me right here on Capitol Hill to advocate for childhood cancer research.
But Ivy, like other childhood cancer survivors, has lingering health challenges. She's also at high risk of developing other health conditions over the course of her life, and will need careful monitoring until she's forty years old.
That's why if Republicans give insurance companies the choice, insurers will either refuse to cover people like Ivy and Kyle, or they'll charge sky-high rates.
The ACA keeps the insurance companies from doing that. If judges strike down the ACA, people like Ivy and Kyle will be in danger through absolutely no fault of their own.
Now, some people may hear stories like Kyle and Ivy's and think, "Well, that's very sad, but it can't affect that many people."
But that's wrong. In Nevada alone in 2015, 1.2 million people under 65 had preexisting conditions. That's half the non-elderly residents of the state. A pre-existing condition could be as rare as childhood cancer, or as common as pregnancy.
That means every other Nevadan could face increased insurance rates if the ACA is struck down.
Nevadans like the families I've met at roundtables across the Silver State, whose kids are some of the 44,000 Nevada children with asthma.
Just last week in Las Vegas, I talked to 12-year-old Joey Douglas. Joey's asthma often keeps him home from school and sometimes lands him in the hospital for days.
He told me that even when he is struggling to breathe, his biggest concern is whether his mom will be able to pay his medical bills.
These kinds of worries are the reason that when Kyle wrote to me, he asked me to speak out for people who don't have a voice in health care policy in this country.
People who are afraid that losing the ACA could mean losing protections that have allowed them to grow up, start a family, follow their passions and live their lives to the fullest.
Today and every day, I'm here to fight for people like Kyle and Ivy, and the countless Nevadans like them.
I have repeatedly urged the President and the Department of Justice to come down on the side of patients in this Texas case.
I've cosponsored legislation to get rid of junk health care plans, which let insurance companies make an end run around the ACA protections for people with preexisting conditions.
And I'm committed to protecting and strengthening the ACA for all Americans, but especially for people like Kyle and Ivy.
When he has a coughing attack or feels like he's breathing through a straw, Kyle should be focused on his health, not worrying about whether he will be able to afford the dozens of medications he takes every day.
When she gets up in the morning and walks downstairs for breakfast, the most serious thing Ivy should be thinking about is that day's homework.
I'm calling on this President and Republicans in Congress to take the shadow of ACA repeal away from Kyle, Ivy, and Joey's lives. Let's let them live bright, healthy lives instead.
###