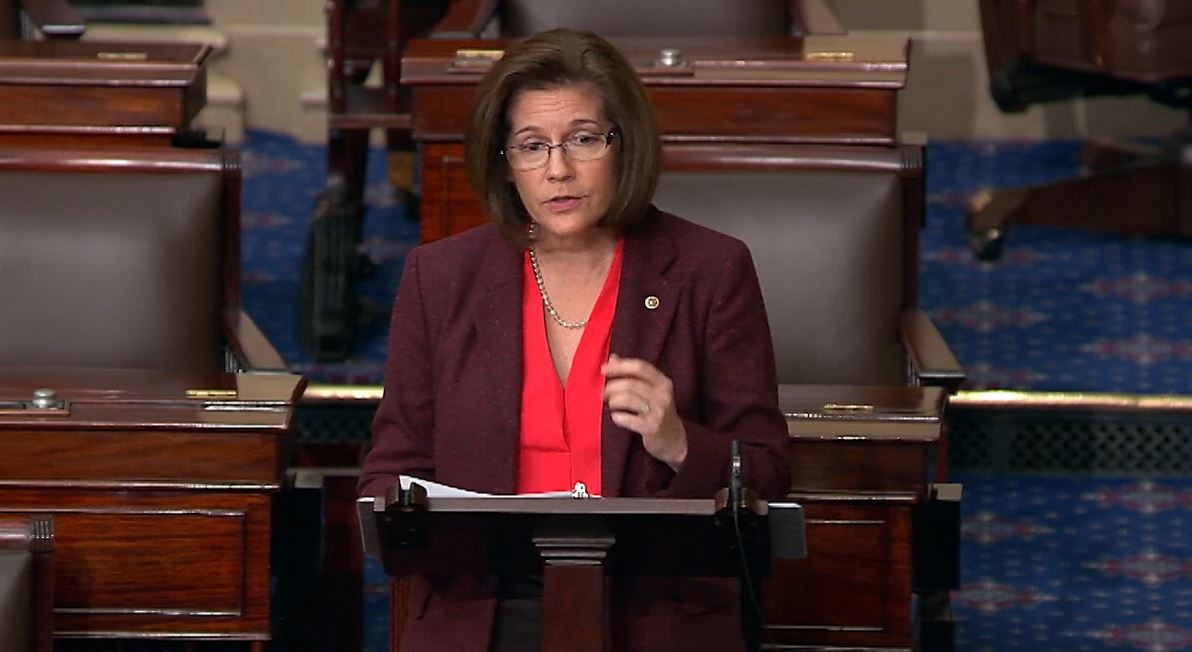 Washington, D.C. – U.S. Senator Catherine Cortez Masto (D-Nev.) delivered remarks on the Senate floor in opposition to the confirmation of Lawrence VanDyke to a seat on the Ninth Circuit Court of Appeals, which has jurisdiction over the state of Nevada. In her remarks, Senator Cortez Masto reiterated her concerns that his nomination sets a dangerous precedent for the Senate and could open the door for future administrations to nominate judges who don't have ties to the communities they represent or the necessary qualifications to be a judge.
Below are her remarks as prepared for delivery. You may download video of the speech HERE.
I rise today because of my firm opposition to Lawrence VanDyke's nomination to the Ninth Circuit Court of Appeals, which has jurisdiction over my home state of Nevada.
Mr. VanDyke lacks the support of both his home state Senators, Jacky Rosen and I. His qualifications are inadequate, and his ties to Nevada are minimal.
His nomination sets a dangerous precedent for the Senate and would allow future administrations to nominate virtual outsiders to communities across the country over senators' objections.
The President could have chosen a better nominee. Senator Rosen and I tried to work with the Administration to identify well-respected attorneys from Nevada as potential appeals court judges.
Instead, the President decided to nominate someone with no current ties to our state.
Someone who the American Bar Association has rated as "Not Qualified" for the federal bench.
Someone who holds extreme beliefs about reproductive rights, LGBTQ rights, gun violence prevention, and environmental protection.
The American Bar Association interviewed sixty of Mr. VanDyke's former colleagues, and those colleagues characterized him as "arrogant, lazy, an ideologue, and lacking in knowledge of day-to-day practice including procedural rules."
Mr. VanDyke's nomination is unprecedented for all these reasons. If confirmed to the Ninth Circuit, Lawrence VanDyke would be the first judicial nominee appointed to the bench without the support of his home state senators, with a "Not Qualified" rating from the American Bar Association, and without ties to the community whose appeals court seat he would occupy.
I'd like to ask my colleagues: What kind of message are we sending when we confirm individuals who don't have the support of their local communities?
We need judges with the knowledge, maturity and experience to understand the impact their decisions will have on the states over which they preside.
So how would my colleagues feel when a future Administration attempts to do the same thing to their state? When a Democratic President, perhaps, nominates a Californian to sit on a district court in Kentucky, or a lifelong DC resident is sent to Texas?
But Mr. VanDyke's qualifications and connections to Nevada are just one part of my objection to his confirmation. I also believe that Mr. VanDyke's views are just too extreme to promote to the federal bench.
He signed the state of Montana on to a brief in an Arizona case that argued that Roe v. Wade "should be . . . revisited".
On LGBTQ protections, Mr. VanDyke at his confirmation hearings broke down in tears of frustration at the very idea that he might be unfair to LGBTQ litigants. He insisted that he believes in treating "all people . . . with dignity and respect."
But he didn't treat LGBTQ people with "dignity and respect" when he wrote in a 2004 article that same-sex marriage hurts "families . . . children and society."
And it certainly doesn't reflect an attitude of dignity and respect to support extreme groups like the Family Research Council and the Alliance Defending Freedom, both of which have been designated as anti-LGBTQ hate groups by the Southern Poverty Law Center.
The people who can legitimately shed tears about Lawrence VanDyke's record on LGBTQ rights are those who are still shunned because of who they love.
On the issue of preventing gun violence, Mr. VanDyke made his stance clear in a questionnaire the NRA sent to him when he was running for the Supreme Court of Montana. In his answers to the NRA's questions, Mr. VanDyke said that he believed that "all gun control laws are misdirected." In Nevada, we believe in second amendment rights, but we also agree – as almost all Americans do – that commonsense measures like background checks keep us safer.
Finally, Mr. VanDyke has done his best to erode environmental standards and protections.
As Solicitor General of Nevada, he signed on to a lawsuit that threatened the critical sage grouse protections. Governor Sandoval, the Republican governor at the time, said that lawsuit "did not represent the state of Nevada, the governor, or any state agencies."
The Western United States have some of the most fragile and iconic public lands in the nation. I object to letting Mr. VanDyke oversee them when he seems to care so little for their value.
Mr. VanDyke's record shows that he is not a neutral arbiter of the law.
Because of his poor qualifications and because of his extreme, activist approach to the law, I will vote against his confirmation, and I urge my colleagues to do the same.
###