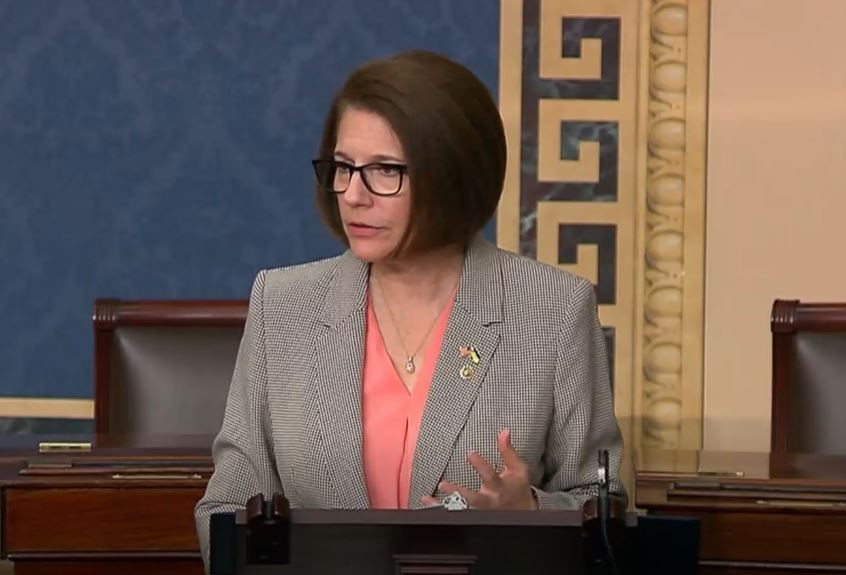 Washington, D.C. – Tonight, U.S. Senator Catherine Cortez Masto (D-Nev.) spoke on the Senate floor about the importance of protecting the right to choose for women around the country and calling on her colleagues to pass federal legislation to guarantee reproductive freedoms for Americans. The Senate will vote on Wednesday on the Women's Health Protection Act.
Senator Cortez Masto has been a tireless advocate for reproductive rights and the Women's Health Protection Act in the U.S. Senate. Last year, she raised the alarm about the danger a Mississippi case represents to Roe v. Wade and joined Congressional colleagues in filing a brief in the case urging the Supreme Court to uphold Roe. She was a vocal opponent of the Trump administration's efforts to limit access to family planning and reproductive health care and worked to block federal court nominees who would roll back women's health care and reproductive freedoms.
Below are her remarks as prepared for delivery:
We're living in the twilight of Roe v. Wade and the incredibly important protections for Americans that flow from it.
For almost fifty years, the Supreme Court held that the Constitution safeguarded women's access to critical reproductive health care, including abortion—and rightly so.
Most American women have never lived without the ability to control their bodies, their health, and their families' economic well-being.
As we learned last week from a draft opinion, the Supreme Court is poised to strip away these fundamental freedoms from women around the U.S. by overturning its own precedents. This would be one of the very few times in American history where the Court has taken away rights, rather than expanding them. If this draft stands, young women today will have fewer choices than their mothers and grandmothers had.
The Senate has an opportunity to use federal law to protect the right to choose across the country. I urge my colleagues to take it and do what the large majority of Nevadans and Americans want: to let women make their own decisions.
Here's what could happen if the Supreme Court draft becomes law:
If the Supreme Court overturns longstanding precedent in June, the right to choose will immediately cease to exist in about 18 states, and others will act quickly to pass new bans on critical care. Within months, restrictions on reproductive choice will be in place in approximately half of the states, meaning that around half of women of childbearing age will not be able to get critical care where they live.
The women who have the money and time will travel to states—like mine—that have legal protections for reproductive health care. In Nevada, we're already seeing women traveling from Texas, where an extreme law offers a $10,000 reward to vigilantes targeting anyone who "aids and abets" abortions. If Roe falls, it will automatically trigger abortion bans in neighboring Idaho and Utah as well. We'll see women traveling to Nevada from those states too.
But the vast majority of women seeking reproductive care won't even have the option to travel for care.
We know what happens to these women. The research shows that when people cannot get essential reproductive care, their physical, emotional, and economic health suffers, as does the health of their families. They can face life-threatening pregnancy complications and long-term health impacts.
This Court decision will strip away women's power to make the best decisions for themselves and their families. That means women will not have the same control over their lives and bodies as men do, and that's wrong.
Nevadans understand something fundamental about the right to choose. The fact is that you can never know what circumstances another person faces until you walk in their shoes. And that's why most Nevadans want to preserve women's freedom to decide what health care they receive. They know it's not right to impose their own beliefs on others, when Americans have such divergent religious views, economic and family circumstances, and medical histories.
And this is why family planning is so important. We've seen it again and again over the years: Far-right extreme Republican lawmakers want to target the entire spectrum of reproductive health care and family planning services.
The laws they are proposing in states like Louisiana and Tennessee could keep women who want to become pregnant from getting fertility treatments. They could stop women who are raped from getting the morning-after pill to prevent a potential pregnancy. These laws could block access to contraception for women who have painful menstrual cycles or other health conditions—or who simply don't want to have a child.
It seems that these effects on women don't matter to many on the far right, including Mitch McConnell, who is already discussing a nationwide abortion ban that could threaten even Nevada's legal protections.
That's why my colleagues and I are standing up for legislation that will codify women's reproductive freedoms into federal law.
The Women's Health Protection Act will preserve the right to choose nationally and ensure women have access to critical care. If we want our daughters to grow up with the same freedoms we have had for fifty years, we have to act. We need to stand up for women in America and trust them to make their own decisions about their health, their families, and their lives. I believe in American women, and I will fight for them. Thank you.
###