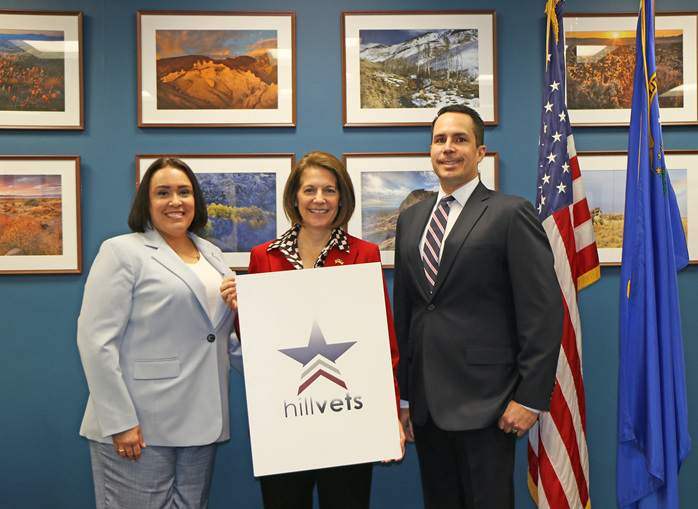 Washington, D.C. – Today, U.S. Senator Catherine Cortez Masto (D-Nev.) announced that she has signed on to be a HillVets House Ambassador. HillVets is a nonprofit, non-partisan organization that helps veterans and the military-connected community continue to serve and make an impact in public policy. HillVets House Ambassadors are members of Congress who publicly support the HillVets House Fellowship program and consider HillVets House Fellows for placement in their office to undertake substantive policy work.
"I'm proud to be a Congressional Ambassador for HillVets," said Senator Cortez Masto. "This is an incredible program that helps ensure veterans can leverage their experience and expertise to continue to serve our country through a career in government. I'll continue to support veterans in my office, in my state, and across the country."
HillVets House Fellowship (HVHF) program provides veterans, service-members, and surviving family members who wish to pursue a career in government, policy, and/or advocacy, the opportunity to serve as a Legislative Fellow in a Congressional office. Fellows develop relationships with peers and mentors while gaining substantive exposure to and understanding of all facets of the legislative process. Taking part in such experiences provides individuals with the necessary skills to find full-time employment in a policy-related position. Furthermore, HillVets offers safe, furnished, free housing for any of its Fellows who need it, as well as a monthly stipend. The HillVets House Fellowship program also provides numerous ways to broaden a Fellow's professional network and a plethora of educational opportunities.
Senator Cortez Masto is a champion in the Senate advocating for our veterans and their families. She is a proud supporter of legislation to help veterans exposed to toxic burn pits, and in December, her legislation to protect VA benefits for student veterans was signed into law. She recently introduced bipartisan legislation to make it easier for veterans who have a service-related medical condition to get the benefits they are entitled to.
###