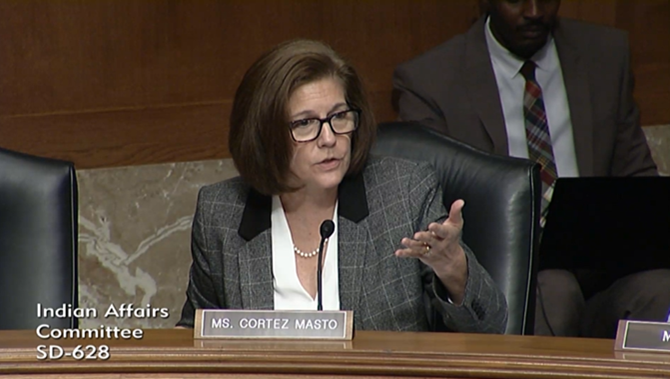 Washington, D.C. – Today, U.S. Senators Catherine Cortez Masto (D-Nev.), a member of the Senate Indian Affairs Committee, joined U.S. Senator Patty Murray (D-Wash.) to introduce new legislation that would expand nutrition assistance to Tribal families by allowing individuals who are eligible for Supplemental Nutrition Assistance Program (SNAP) and the Food Distribution Program on Indian Reservations (FDPIR) to use both programs in the same month, aligning tribal food assistance with other food assistance programs. The Tribal Access to Nutrition Assistance Act would increase food security among Tribal communities—who suffer from much higher rates of food insecurity than the general public—and eliminate the administrative burden that comes with forcing individuals who qualify for both SNAP and FDPIR to pick between programs each month.
"I am proud to fight alongside Senator Murray to make sure Tribes in Nevada can put food on the table and keep their families fed," said Senator Cortez Masto. "Tribal members should never be in a position where they go hungry, and it's commonsense to make sure Indian Country has access to the same food assistance programs as everyone else so these communities can get the food they need to stay healthy."
Senator Cortez Masto discussed the bill at a Senate Indian Affairs Hearing this week, highlighting the urgent need to work with tribes and Tribal communities to ensure that their basic needs are met."  Abi Fain of the Agricultural Council called her bill necessary for tribal communities. The full exchange can be downloaded here.
Right now, individuals who qualify for both SNAP and FDPIR cannot use both programs in the same month—they are forced to pick one. This is not representative of any other food program combination—for example, individuals who qualify for both SNAP and the Special Supplemental Nutrition Program for Women, Infants, and Children (WIC) or The Emergency Food Assistance Program (TEFAP), may use both.
An estimated 276 Tribes across the country receive benefits under FDPIR and the program serves 75,000 Native American adults and children each month. FDPIR is intended to be a supplemental food package and is not enough to meet the nutritional needs of Tribal individuals—however, a study by USDA found that FDPIR is the sole or primary source of food for 38 percent of households who are enrolled in it. According to a 2009 study by the Urban Institute, 87 percent of FDPIR participants are eligible for SNAP. So this new legislation would provide dual enrollment to an estimated 65,250 Tribal individuals nationwide.
Senator Cortez Masto has been a strong advocate on behalf of Tribes in Nevada and across the country. Understanding the importance of preserving Native heritage, she has worked to protect and support Tribal languages. The Senator has continuously highlighted the ongoing crisis of missing and murdered Indigenous women (MMIW), and she was instrumental in passing Not Invisible Act and Savanna's Act into law.
###