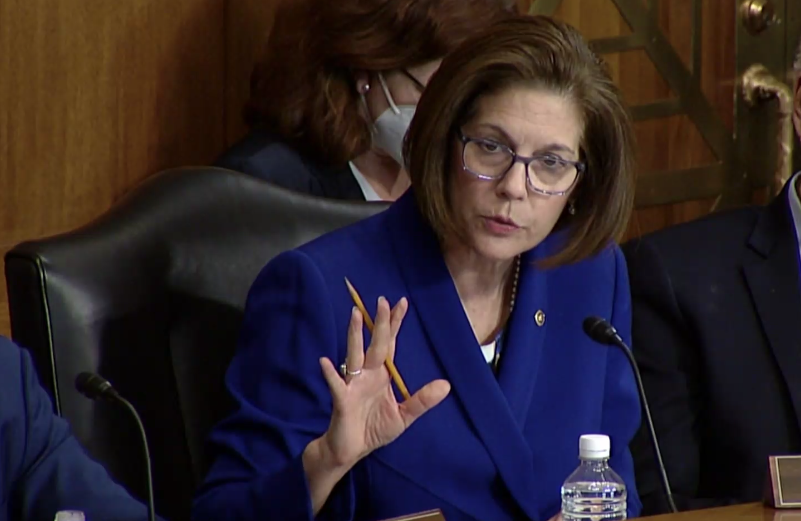 Washington, D.C. – Today at a U.S. Senate Energy and Natural Resources Committee Hearing, U.S. Senator Catherine Cortez Masto (D-Nev.) called out oil and gas companies for putting their profits over the needs of Nevadans feeling pain at the pump, and called on them to take more robust action to bring down costs and ramp up responsible oil production.
Oil and gas companies currently hold more than 9,000 approved but unused permits to drill in the U.S., and they could use these permits to responsibly expand oil production. Yet this week, multiple news reports have indicated that oil and gas companies, including Chevron, Shell, and Exxon, used their record profits to pay their shareholders instead of listening to calls to increase oil production and lower prices for consumers.
Senator Cortez Masto began by asking Colette Hirstius, Senior Vice President of Shell USA, why oil industry profits are going to shareholders rather than being used to responsibly increase oil production. "Oil and gas companies certainly are not hurting," said Senator Cortez Masto. ". . . In recent days, major oil companies in the United States have said that they would rather use their earnings from higher prices to boost payouts to shareholders and expand their operations slowly, rather than rush to drill new—or develop existing—wells."
Cortez Masto pressed Ms. Hirstius on why Shell would prioritize payouts to shareholders rather than working to increase our oil supply, and if Shell would be willing to pass their dividends on to consumers who are hurting from high gas prices, which Ms. Hirstius did not answer.
Senator Cortez Masto continued, "So let me move on here because I didn't get an answer to my question."
She next addressed Jonathan Elkind, senior research scholar at Columbia University, to discuss the fact that the Biden administration has approved more permits to drill in the last year than during the Trump administration's first three years in office. She stated, "Let me just say this. It is false to lay blame on the Biden administration's energy policies as the cost and the cause for the high gas prices that currently facing Americans right now. . .oil production on federal public lands is higher now than at any point since at least 2003. We have heard this statistic—the oil and gas industry has more than 9,100 approved permits to drill that have not yet been put into use and 14 million acres of leased public lands that have not been put into production. And I keep hearing, "Well, we've got to increase production!", but there is the opportunity already to do that." She then asked Prof. Elkind to explain why oil and gas permits are going unused if they could help lower costs.
Prof. Elkind responded by noting that the oil and gas industry has prioritized Wall Street and underinvested in production for the last five years.
Senator Cortez Masto clarified: "Five years of underinvestment in what? In new drills and new and new upstream drilling? . . . So the oil companies have been listening to Wall Street, right, and not actually investing in new drilling sites."
Prof. Elkind indicated that was correct.
Senator Cortez Masto's push to lower prices at the pump is part of her comprehensive work to ease cost burdens for Nevadans. She's pushed critical legislation to alleviate supply chain bottlenecks, introduced a bill to cap the price of insulin, proposed a federal gas tax holiday, and called on the Biden administration to develop a long-term, government-wide strategy to lower gas prices.
She has also been a champion for renewable energy and clean transportation development that will help lower energy prices for Nevadans through her Innovation State Initiative. Last year, she secured major investments to boost the clean energy sector, including an extension of vital tax credits for the solar industry and its workers and portions of her GEO Act to reduce barriers for geothermal development. In the bipartisan infrastructure package, she worked to increase support for transportation alternatives to reduce oil and gas consumption, including electric vehicles and buses, greater transit service, and secured $6 billion to implement a battery manufacturing and recycling grant program. In addition, the bipartisan infrastructure law contained measures she advocated for to increase the critical mineral supply chain for minerals like lithium used in electric vehicles and other technologies, help Nevada expand its critical mineral industry, and create more jobs in the processing and recycling sectors.
###