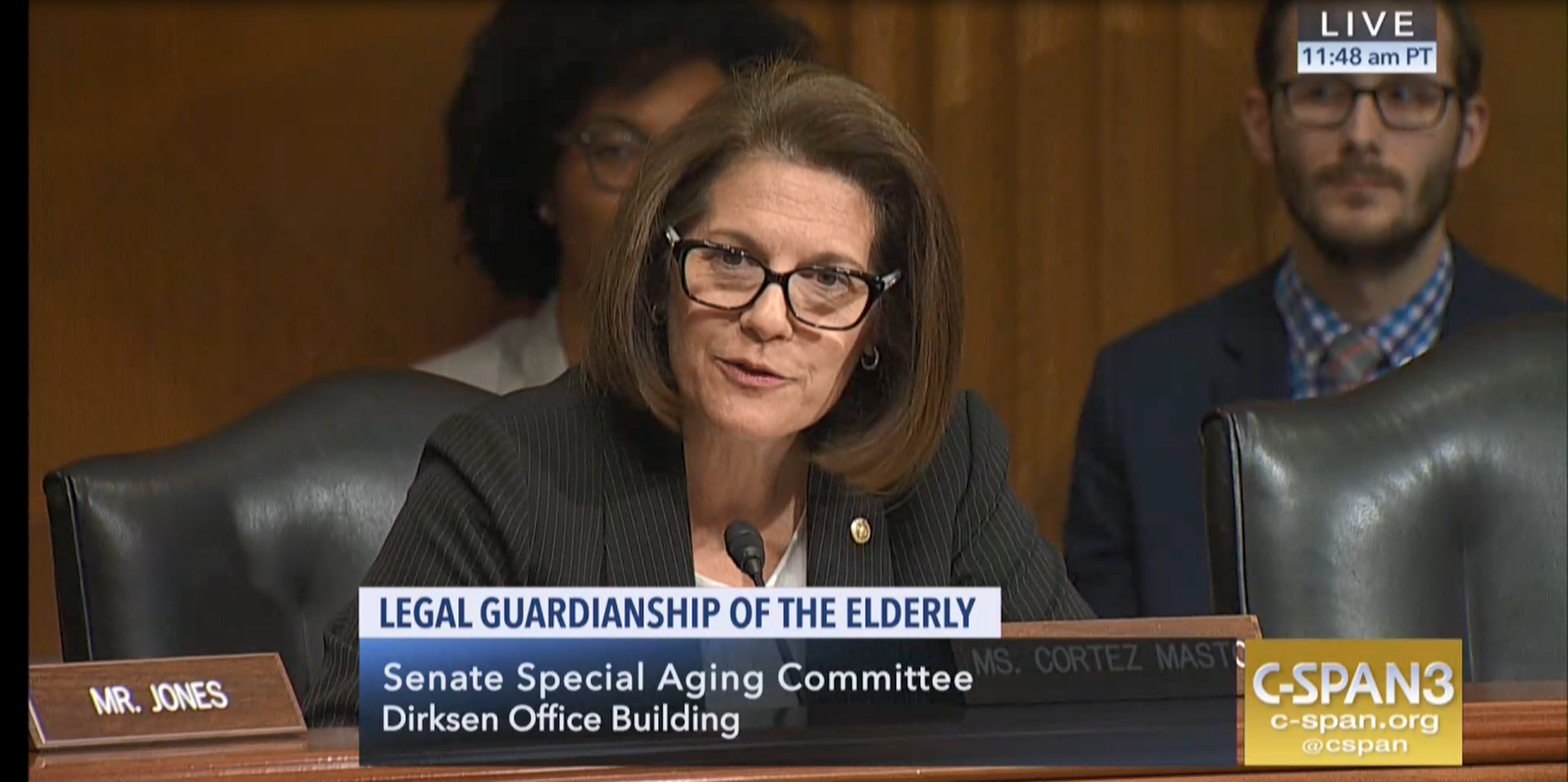 Washington, D.C. – At an Aging Committee Hearing entitled, "Ensuring Trust: Strengthening State Efforts to Overhaul the Guardianship Process and Protect Older Americans," Cortez Masto introduced Barbara Buckley, Executive Director of the Legal Aid Center of Southern Nevada. Ms. Buckley led sweeping reforms of the guardianship system in Nevada to protect seniors from abuse.
"We are fortunate enough today to hear and have Barbara Buckley, who is not only a friend of mine, but was one of the chief architects of these reforms on guardianship in the State of Nevada, and she helped create one of the most advanced systems in the entire nation for protecting seniors from abuse," said Cortez Masto.
Cortez Masto continued, "Barbara helped create the Legal Aid Center's Guardianship Advocacy Program, which provides representation to seniors and adults with disabilities under guardianship to ensure the adult's legal rights are protected. The right to counsel is a vital part of Nevada's new guardianship system and crucial to protecting those who are the most vulnerable."
BACKGROUND:
Barbara Buckley served as the Speaker of the Nevada State Assembly from 2007 through 2010, becoming the first woman in the state's history to hold this position. She is currently the executive director of Legal Aid Center of Southern Nevada, which provides free legal assistance and representation to those who cannot afford an attorney.
Since 2014, Nevada has completely reformed its guardianship system to end the abuses seen in so many other states. One of the reforms that has had the biggest impact is the creation of a right to counsel for proposed protected persons in guardianship proceedings. Funded by a fee on court recordings, legal aid centers in the state have been able to hire attorneys that specialize in guardianship matters, while courts are required to appoint counsel to protect the interests of proposed protected persons who are otherwise unrepresented. The State also passed a Protected Person's Bill of Rights to protect the rights of people in guardianships.
###