In Case You Missed It, Senator Catherine Cortez Masto (D-Nev.) discussed her work to protect survivors of domestic abuse at STEP2 Reno, a long-term treatment center providing critical services for domestic violence survivors. Cortez Masto has consistently pushed for additional federal support to combat domestic violence and is leading efforts in Congress to protect funding for victim service providers across Nevada, including STEP2.
KTVN: Sen. Catherine Cortez Masto Tours STEP2 Reno
As October is Domestic Violence Awareness Month, Senator Catherine Cortez Masto is drawing attention to the essential programs available to women in crisis throughout Nevada.
On Friday, Cortez Masto visited STEP2 Reno, a private non-profit organization that offers gender-specific long-term treatment services for substance use disorders, domestic violence intervention, and education and trauma services.
[…]
Cortez Masto is working to secure federal funding for STEP2 and other crucial programs in Congress.
In 2022, the Justice Department made $225 million dollars in grants available through the Violence Against Women Act (VAWA), and millions more were secured through the Victims of Crime Act (VOCA). These funds will be allocated to organizations that provide services and support to women and children affected by domestic violence and other crimes.
Cortez Masto's efforts in Congress aim to ensure that these programs have the necessary resources to continue providing essential services to those in need.
[…]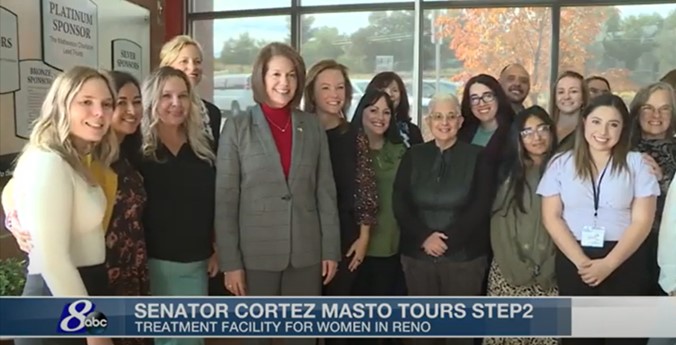 In honor of Domestic Violence Awareness Month, Senator Catherine Cortez Masto made a visit to STEP2 in Reno to provide essential services to women in crisis, whether that means domestic abuse or substance abuse, which oftentimes go hand in hand. Cortez Masto toured the newly renovated facility which features 25 cottages, where the woman can live with their children at the same time while they continue their treatment. Yesterday, we caught up with the Senator and one of the women involved in the program.
"This is the type of program that unfortunately is needed, but it is important for us to help so many in our community, women and their children," said Senator Cortez Masto.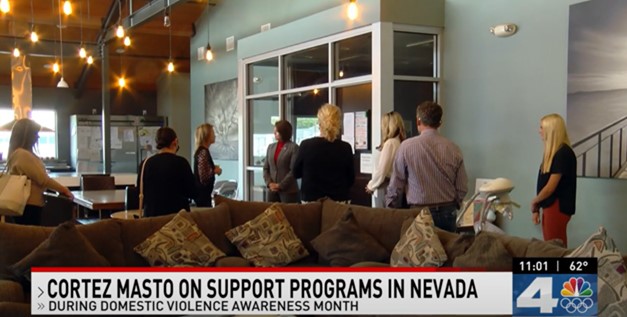 Senator Catherine Cortez Masto toured the STEP2 campus this morning to take a look at how the long-term treatment center provides critical services for domestic violence survivors. Cortez Masto says that after meeting with staff and clients at the STEP2 facility, she plans to continue pushing for federal funding and also work to address other barriers that the program highlighted, such as affordable housing issues and access to dental care.

"To me, this is a perfect program, a model, that should be in other communities," said Senator Cortez Masto. "There are some of them are for profit. Some of them are out there, but we need to have more of these types of programs. This gives me the ability to take what I've seen here and talk about in Washington and why these federal funds are essential."
###